German start-ups attract Russia's investors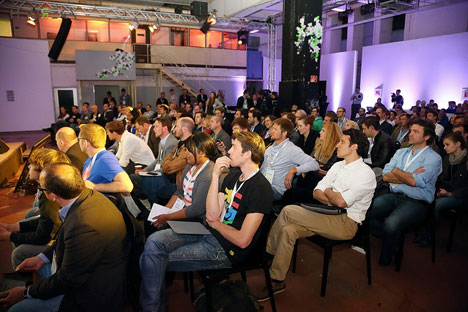 Young entrepreneurs at the Heureka start-up conference in Berlin. Source: Vertical Media
Russian investor, Edward Shenderovich, played an integral role in the success of young business entrepreneur, Jan Beckers, making him a key figure in the Berlin start-up scene.
Today, Jan Beckers, is speaking in front of more than 500 founders, young entrepreneurs, investors and branch reps at Berlin's most important conference, Heureka, which is essential in his view to turn an idea into a successful business concept. And he should know, as he has already founded 6 successful companies.
His company, Hitfox, employs 90 people in four countries and its successful business model in the games industry has earned an established place in the European digital business segment after just 10 years.
His long-time sponsor and friend, Lukasz Gadowski, praises his fellow investor and partner just two hours later on the same stage as the "epitome of originality." Little do the majority of the spectators know, entrepreneur Edward Shenderovich played an integral role in the success of the young businessman.
Based in Moscow, London and New York, the financier has supported Beckers at the recommendation of Gadowski since 2009 as an early investor in the ad network SponsorPay. He also invested early on in Kite Ventures two years ago, which supported Hitfox, a game distribution company.
Edward Shenderovich is a welcome sight in the young Berlin start-up scene: be it as an investor in Gadowski's international delivery service, Delivery Hero, or as a guest at the many C-level events in Gadowski's network like "CEO Berlin" and "CEO Dinner," which deal with his Team Europe Ventures and Vertical Media, who is putting on Heureka.
More important than figuring out who belongs to whom, is casting a glance behind the scenes.
In his keynote address at Heureka about business models, financing and staff members, Beckers underscores the importance of "financing being a joint decision making process."
In a private talk with Beckers, who has also founded other companies, such as Madvertise, he discusses the "extremely positive experiences" he made with his Russian investor. At 30 years of age, he praises his Russian partner as an international investor, who is fast, up front and professional.
In the digital sector, which lives on innovative ideas and their rapid implementation, Shenderovic's characteristics are paramount to success. It is no wonder that the Russian financier supports partners, who are just as quick and agile as he is, like Gadowski and Beckers with their companies in Germany, Europe and beyond.
It is no exaggeration to describe the Russian investor as an important partner in the Berlin start-up scene.
In an interview with RBTH, Mark Hoffmann, CEO of Vertical Media, described Berlin as a "European hotspot for technology." With participants from Chile, Poland, the Czech Republic, Ukraine and the US, Heureka is indicative of the importance of the international start-up hub in the German capital.
The English language platform for the set-up phase of internationally based start-ups is a good barometer for the development of new digital business.
"In addition to hearing about capital, personnel, marketing, distribution and product development, there is another topic on everyone's lips at Heureka: internationalization.
"At the very latest when it comes time to successfully place products made in Berlin in the top 5 European markets, Germany, France, the UK, Italy and Spain, and to roll out services, it is extremely helpful to have a partner like Russia in your corner.
All rights reserved by Rossiyskaya Gazeta.