Alcohol ad ban sinks Russian print media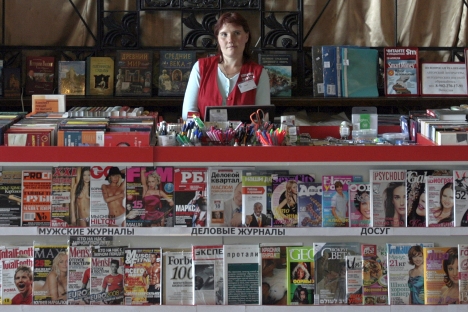 The law bans all alcohol-related ads from magazines, newspapers, Internet and TV. Source: AFP / East News
Russian newspapers and magazines are losing money for the first time ever. The downward trend is being attributed to the recently-imposed ban on alcohol advertising.
Around 8–8.3 billion rubles ($255–265 million) was spent on advertising space in newspapers and magazines during the first quarter of 2013. The Russian Association of Communication Agencies reported the figure to be down 5 percent from last year.
Newspapers and magazines were the only form of media to see their revenues drop at the start of the year, while advertising as a whole saw a 14 percent increase to 70–71 billion rubles (around $2.25 billion) in the first quarter.
Print advertising publications have suffered the most, with revenues plummeting 11 percent to 2.3–2.4 billion rubles (around $73.5 million).
Overall, media advertising has fallen by 1 percent over the past year, while newspapers and magazines have seen their profits shrink by 2 percent in the first quarter of 2013 alone.
According to Video International analyst, Aleksandr Yefremov, the main reason for the sudden drop in printed media revenues is the ban on alcohol advertising. The ban came into effect in January of this year.
Komsomolskaya Pravda publishing house General Director, Vladislav Gemst, estimates that alcohol advertising accounts for as much as 5 percent of newspaper and 20 percent of magazine advertising revenue.
With a ban on cigarette advertising set to come into effect in June, the situation is unlikely to improve. According to Shkulev, tobacco companies are making the most of these final weeks by actively plugging their products in newspapers and magazines.
But the extra cash flow won't offset an impending drop in profit. Gemst estimates that cigarette advertising accounts for 2–3 percent of the advertising revenue for newspapers and magazines.
First published in Russian in Vedomosti.
All rights reserved by Rossiyskaya Gazeta.