European luxury goods market thrives on Russian tourists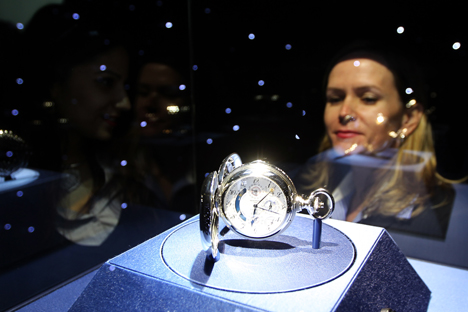 More and more Russians buy luxury goods abroad. Source: AFP / East News
While the ongoing recession has pressured Europeans and Americans into spending cuts, tourists from Russia and China have been pushing up luxury sales. In Dubai, Russians are the biggest-spending foreign consumers.
In the face of global recession, the world luxury goods market continued its growth in 2012, expanding 10 percent to 212 billion euros ($275 billion). According to Bain & Company's Luxury Goods Worldwide Markets Monitor Report, Europe is responsible for a third of that total.
With demand stagnant on the domestic market, Russian tourists are emerging as an increasingly important target group for European luxury brands, said Bain & Company partner, Claudia D'Arpizio. In Dubai, Russians have proven to be the biggest-spending non-resident group, she added.
"Russian tourists have effectively rescued the European market during the ongoing Eurozone crisis, which has led to luxury goods spending cuts by Europeans," said Kira Balashova, COO of Jamilco, a group of companies acting as an official distributor of luxury and premium brands in Russia, including Burberry, Salvatore Ferragamo and Escada.
"Russians tend to spend more during their trips than other European tourists," believes Anastasios Liaskos, Secretary General of the Ministry of Tourism of Greece. It's a question of mentality: Russians want to enjoy themselves, and they are willing to pay in order to have a good time.
Head of the Russian Ministry of Culture (supervising the tourism industry), Vladimir Medinsky, said in March that Russian tourists were spending $2,200 on average during holidays (including the cost of the tour package).
Russians are the second biggest-spending foreign group of customers on the European market, according to the tax free shopping operator Global Blue. In 2012, the volume of tax free purchases rose 31 percent to roughly 1.44 billion euros ($1.87 billion).
According to Global Blue, Russian tourists reclaim taxes for about half of their European purchases, which puts the actual spending at twice the amount, around 2.9 billion euros ($3.77 billion).
The United Nations World Tourism Organization estimates that Russians spent $43 billion on international tourism in 2012, placing them firmly among the top five in terms of holiday spending. The list is topped by China, which spent an estimated $102 billion last year.
"Russians tend to buy more luxury goods abroad than they do on the domestic market, which has a tendency to affect the sales of Russian distributors," Balashova says. She also mentioned "a certain decline in the demand for luxury goods on the Russian market," observed last year.
Balashova believes that "with the Russian market slowing down, and more and more Russians shopping abroad or online, Russian regulatory authorities should carefully consider measures to remedy the situation; for one, they should bring down customs barriers for Russian distributors."
First published in Russian in Vedomosti.
All rights reserved by Rossiyskaya Gazeta.