Sberbank and MTS listed among most valuable brands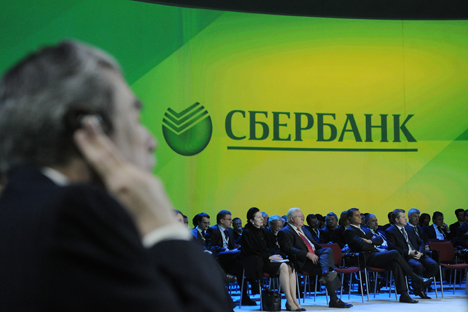 Sberbank is the market leader in nearly every available financial service in Russia. Source: ITAR-TASS
Russia's largest commercial bank Sberbank and telecom company MTS make Millward Brown Optimor's BrandZ Top 100 Most Valuable Global Brands of 2013.
Millward Brown Optimor has published its 8th edition of the BrandZ Top 100 Most Valuable Global Brands, commissioned by WPP Communications holding. Russia's largest commercial bank, Sberbank, and mobile phone operator, MTS, have stayed on the list for the past three years.
Sberbank's brand value grew by 19 percent in 2012 to $12.655 billion, while the MTS brand is now worth $10.633 billion, an 11 percent increase over last year.
Sberbank capitalization at the LSE has increased by 33 percent over the past 12 months to $73.9 billion. The bank's September 2012 SPO sold a 7.58 percent stake in the company for $5.2 billion.
"Solid financials and thorough marketing strategy resulted in a considerable increase in brand value," says Millward Brown Optimor Vice President, Anastasia Kurovskaya.
"Sberbank is gradually and quite successfully building a reputation as a global bank, having acquired Russia's largest consultant Troika Dialog, Volksbank International and DenizBank," she says. This year, Sberbank's brand value was only 6 percent short of the top ten most expensive European brands.
MTS's NYSE capitalization expanded by 23 percent in 2012 to reach almost $21 billion. Over the past two years, the company has managed to make the transition from a perceived good, but expensive brand to a brand with justified service fees, according to a recent study.
"The company acted quite boldly when it slashed its voice services rates last year in the hope that their customers would spend more on alternative services, such as data transfer. They have gained much more than they lost," Kurovskaya explains.
An MTS financial report showed that in Russia alone, data transfer revenues increased by 34 percent in 2012 to 33.069 billion rubles ($1.064 billion).
"The increase resulted in a brand value growth, thus proving the effectiveness of our strategy," said MTS Vice President of Marketing, Vasyl Latsanych. MTS currently ranks as ninth among the top ten most valuable telecom brands in the world.
Though Gazprom and Lukoil remain unranked, they are seventh and tenth, respectively, among the top ten oil and gas brands globally. Gazprom's brand is valued at $6.18 billion (down 8 percent from last year), while Lukoil is valued at $5 billion.
"The oil and gas brands are showing little growth now, because experts have doubts that oil and gas companies will be able to seriously develop and grow in the future," Kurovskaya
explains.
VTB Bank, telecom companies Rostelecom and Megafon may soon join the rankings, especially if the Sochi Winter Olympics are a success.
"VTB is satisfied with its brand growth. The high-quality work of all of the companies of the VTB group has contributed to this growth," a spokesperson for the bank says.
The top ten technology brands could have included Yandex (a NASDAQ-listed IT company), if it had pursued active expansion, and computer security company, Kaspersky Lab, if it disclosed its financials.
Apple tops the BrandZ rankings with $185 billion, up 1 percent in 2012 (see the V1–V8 insert). North American brands account for about 65 percent of the combined value of the top 100 global brands. Kurvoskaya said it seems that they know well how to deal with their brands in the birthplace of marketing.
All rights reserved by Rossiyskaya Gazeta.