Moscow plans new rail stations for high-speed trains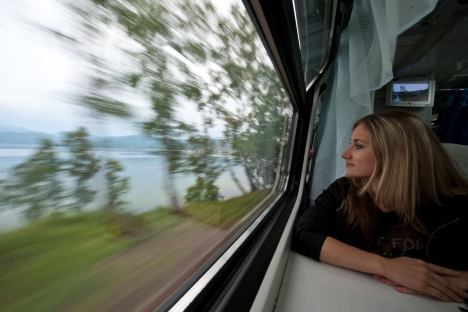 Russian guests and foreign tourists will be able to use high-speed long distance trains that will decareace travel time. Source: DPA / Vostock Photo
New stations will dramatically reduce travel time to Adler, St. Petersburg and Yekaterinburg.
Moscow is looking to build four new railway stations in the next few years, Izvestia reports. They will focus on servicing high-speed trains, which will be running on three routes — to St. Petersburg, Adler (near Sochi) and Yekaterinburg (1,155 miles from Moscow) — at a speed of up to nearly 250 miles per hour.
The trains are expected to travel twice as fast as the Sapsan trains, which operate at a speed of 100-155 miles per hour. It will now take only between 2 and 2.5 hours to get to St. Petersburg from Moscow.
The Moscow Committee for Architecture has already submitted proposals to the Directorate of the Moscow Transport Hub for two high-speed train station sites: one in Perovo, to the east of the capital; the other in Tsaritsyno, in the south of the city.
Valentin Murashov, head of the traffic planning department at Institute for Transport Economics and Development (a subsidiary of the Russian Railways company), warns that not everyone would be happy about the stations being so far from the city center.
"It is not really logical that a person arriving in Moscow on business should find themselves slap bang in the middle of a residential area. There are a few options that are closer to the city center — they could build a new terminal near Kalanchevskaya Station and perform a large-scale reconstruction of Kursky Railway Station," he says.
Kursky Station, which lies within the Garden Ring Road, could be replaced with a multi-level building similar to Berlin Central Station: One level would service shuttle trains, the second would work with long-distance trains, and a third would be designated for high-speed trains.
The two remaining new stations will be built for New Moscow residents. In 2011, the government extended the capital to the southwest: an ambitious move that will more than double the total area of the city.
Murashov believes that the New Moscow stations will work with long-distance trains. "Currently, there are no stations there for long-distance trains. There is a proposal to build a new line to link the Kiev and Kursk routes — New Moscow lies between them — and a station to service such trains on this new line. Another option is to build two stations, one on each route," he says.
The article is a combined report based on materials from Izvestia and RBC Daily.
All rights reserved by Rossiyskaya Gazeta.