High-speed train to link Moscow and Kazan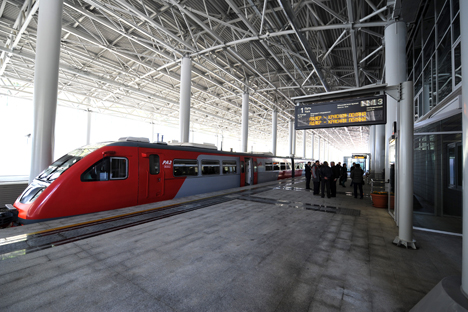 The high-speed trains operate at a speed of 100-155 miles per hour. Source: ITAR-TASS
The new railway promises to reach Kazan in 3.5 hours, offer competitive pricing to domestic flight alternatives and generate passenger traffic on its own.
Russia's first high-speed railway between Moscow and Kazan is expected to be built by 2018. The project was approved yesterday at a meeting headed by Vladimir Putin.
Vladimir Yakunin, President of the Russian Railways, said that high-speed train fares would range from 800 rubles ($25) to 8,000 rubles ($252); the train will take 3.5 hours to reach Kazan, compared with the current 11.5 hours.
The meeting introduced dramatic changes to the high-speed railways development program. Kazan and Adler (Sochi) became the two priorities. The 800-kilometer Moscow-Vladimir-Nizhny Novgorod-Cheboksary-Kazan high-speed train service will be Russia's first high-speed line, said Transport Minister Maxim Sokolov.
The new line will essentially be the first stage of the railway connecting Moscow and Yekaterinburg. The Minister was very cautious when commenting on the construction period.
"If we start working on it in 2013, theoretically, we would have enough time to complete it by the 2018 FIFA World Championship in Russia," ITAR-TASS quotes Sokolov as saying.
The new railway will require 928 billion rubles ($29.3 billion) in investment, including a state grant of 650 billion rubles ($20.5 billion), said Vladimir Yakunin, President of Russian Railways.
Private investors and credit institutions are expected to finance the remaining 30 percent needed to buy trains and develop the auxiliary infrastructure. Kazan is not only one of Russia's main holiday destinations but also the home of one of the country's most successful special economic zones, Alabuga, and several technoparks.
Yakunin explained that fares would range between one and ten rubles ($.03-$.32) per kilometer, depending on class. The cheapest ticket to Kazan will be available at 800 rubles ($25), and the most expensive will cost up to 8,000 rubles ($252).
To compare: a round trip flight to Kazan starts at 7,300 rubles ($230). In any case, the state will have to offer the railway operator a subsidy as soon as the line is completed, particularly in order to keep the fares low. Mr. Yakunin said that the required subsidy would be 315 billion rubles ($9.9 billion).

The Moscow-St. Petersburg high-speed railway used to be the country's top priority (the one trillion-ruble VSM-1 train project).
A concession scheme was originally proposed: a consortium of investors was supposed to bid for the right to build the railway and a 30-year operating contract. Yet the project has been postponed indefinitely.
Elena Sakhnova at VTB Capital says that the railway link between Moscow and St. Petersburg with Sapsan trains is already efficient enough. To invest an additional one trillion rubles ($31.5 billion) in the line is unfeasible, even given the plans to separate passenger and freight traffic, the expert says.
Yuri Saakian, General Director of the Institute of Natural Monopolies, adds that a high-speed railway in the Volga Region would not only compete with air transport but also generate passenger traffic on its own.
First published in Russian in Kommersant.
All rights reserved by Rossiyskaya Gazeta.