Russian software developer announces IPO on NYSE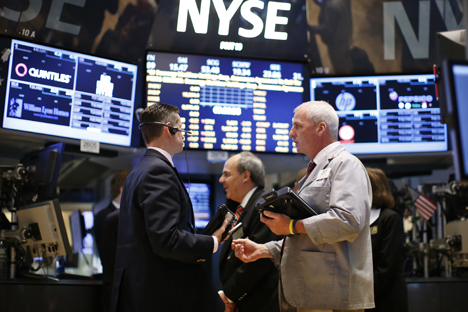 Russian software developer estimates $80 million gain from IPO. Source: Reuters
Russian software developer Luxoft, a service provider for Boeing, Dell, IBM, Alcatel and Deutsche Bank, files for an IPO on the New York Stock Exchange.
Luxoft, a Russian software developer, has announced that it has filed for an initial public offering (IPO) on the New York Stock Exchange. Luxoft's main owners expect to raise $80 million from the sale of shares.
Luxoft announced the move on the website of the US Securities and Exchange Commission. It follows from the offering memorandum that shares will be sold by Luxoft Holding and its three shareholders: IBS Group Holding Ltd., its wholly owned subsidiary Luxoft SOP S.A. and Rus Lux Limited, a subsidiary of VTB Capital.
Luxoft, does not specify the shareholdings of its co-owners. VTB Capital acquired up to 10 percent in Luxoft in 2009, a source close to IBS Group told Kommersant.
Investors will be offered Class A ordinary shares, with each share entitled to one vote. The company also issued Class B shares, each entitled to 10 votes. These shares, however, have already been distributed between the shareholders and will not be sold.
The shareholdings and numbers of shares offered for sale are not disclosed; nor has the price range been specified. The document only mentions the amount Luxoft is looking to raise from the sale: $80 million.
The software developer intends to use the net proceeds for working capital and other general corporate purposes. The underwriters of the IPO are UBS, Credit Suisse, JP Morgan, VTB Capital and Cowen and Company.
Luxoft is one of Russia's biggest software developers, providing services to Boeing, Absolut-bank, Renaissance Credit, Dell, IBM, Sabre, and Alcatel. Its two biggest customers — Deutsche Bank and UBS — accounted for 47 percent of all sales in 2012.
Luxoft reported sales at $314.6 million for the 2012 fiscal year, with a net income amounting to $37.5 million.
Customers from the US accounted for 36.3 percent of Luxoft's revenues, from the UK for 28.2 percent, and from Germany for 12.8 percent. Russian customers paid Luxoft $35.1 million for its services, or 11.2 percent of total revenues in 2012.
Uralsib Capital analyst, Konstantin Belov, evaluated Luxoft last year as part of the IBS Group at $604 million and the company value has hardly changed since then, he says.
"We believe it to be IBS' most popular business; it is growing faster than other segments and is showing a higher profit margin," Belov added.
"We are happy to see Luxoft go public. We believe it is a positive development for the segment and hope that investors will welcome the IPO," Ilya Kantor, Financial Director at EPAM Systems, told Kommersant. The IBS Group was not available for comment; the spokesman for VTB Capital did not take our call.
First published in Russian in Kommersant.
All rights reserved by Rossiyskaya Gazeta.