Russian banking business goes global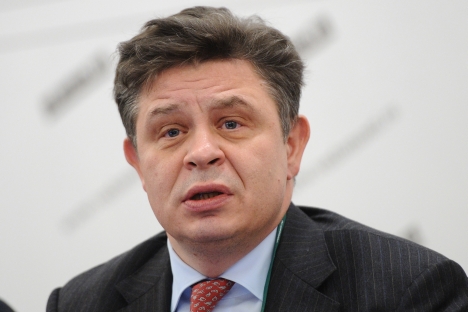 Pavel Teplukhin: "I think Russian business has a unique opportunity: It is able and willing to go global and has a good chance of doing so." Source: ITAR-TASS
Chief Country Officer of Deutsche Bank Russia Pavel Teplukhin talks to RBTH about the potential of Russia's banking sector, its international ambitions and the upcoming International Economic Forum in St. Petersburg.
Pavel Teplukhin, Chief Country Officer of Deutsche Bank Russia, speaks about competition with Russian banks, Yegor Gaidar's reforms and his forthcoming speech at the 17th St. Petersburg International Economic Forum.
Russia Beyond The Headlines: Where does the Russian banking sector stand in world banking?
Pavel Teplukhin: The world banking sector is at a turning point. It is obvious in America and somewhat less so in Europe, with Russia ahead of Europe in this case.
Bio:
Pavel Teplukhin was a co-founder of Russia's biggest managing company Troika Dialog (bought by Sberbank in 2011 and renamed Sberbank CIS). Teplukhin was the head of Troika Dialog between 1996 and 2010, first as President and then as Chairman of the Board of Directors. He took part in launching the first Russia-orientated mutual fund in the USA and created the first Mutual Investment Fund (PIF) of equity in Russia in 1997. Teplukhin is currently the Head of the Strategy Committee under the Rosnano Board of Directors and a member of the Board of Directors of the International Trade Center OJSC. He has been with Deutsche Bank since October 1, 2012.
The major Russian banks – VTB, Sberbank, NOMOS-Bank and Alfa-Bank – are reformatting their business.
Previously, the market was structured by product type: investment banks, commercial banking, etc. Now every bank does everything. The Russian banking system stands a good chance of being among the first to enter the new financial structure.
I think Russian business has a unique opportunity: It is able and willing to go global and has a good chance of doing so. This will be the keynote of my speech to the 17th St. Petersburg International Economic Forum [SPIEF] to be held on June 20–22.
RBTH: Will it be your first speech to the SPIEF?
P. T.: I have attended all the fora. We believe that the SPIEF is the second most important forum after Davos, and we are taking an active part in it. This year, Deutsche Bank will provide several speakers at various sessions.
Jürgen Fitschen, Co-Chairman of the Board and Executive Committee of Deutsche Bank AG, will take part in the round table "Russia – Germany.
Main Issues in the German-Russian Strategic Economic Partnership" and the panel discussion "Russian Industrial Development and the Global Supply Chain."
Thomas Mayer, Chief Economist of Deutsche Bank AG, will moderate the economic round table "Global Economic Forecast," and I will speak at the session "Building Capabilities to Compete in Global Markets."
RBTH: Do I rightly understand that Deutsche Bank experiences strong competition from local players in Russia?
P. T.: Deutsche Bank started working in Russia in the late 19th century and was one of the first foreign banks to restore its presence in the post-perestroika Russia.
There is competition with local players, of course, but we retain leadership among foreign investment banks in key areas and are increasing the number of our retail clients.
In the currency department, it is hard to compete with us because we are a global bank with a massive presence in Russia.
RBTH: You used to be an active adviser to the team of leading initiator of Russia's financial liberalization Yegor Gaidar. How do you assess the rationale of his reforms at the time?
P. T.: I think I have been lucky to live at a time of change. We had the Soviet population and a hostile environment to deal with, the treasury was empty, and the country's power system was on the brink of collapse.
I think the decisions taken then, including prices and oil market deregulation, privatization, foreign trade and private ownership reforms, were more successful than in a number of our East European neighbors. Our reforms went off better and occurred within a shorter time span.
Look at Moldova, the Czech Republic, Poland, Hungary and the Baltic states, which started from a similar base.
All rights reserved by Rossiyskaya Gazeta.