Russia attracts risk-hungry Oppenheimer funds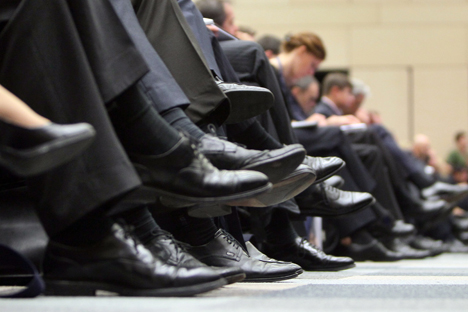 Russian bonds came in second in the Oppenheimer International Bond Fund's portfolio. Source: Kommersant
The Oppenheimer International Bond Fund has invested more in Russian bonds than in U.S., British or German instruments.
Over the last year, the share of Russian assets held by the Oppenheimer International Bond Fund has increased from 7 percent to 10 percent of its portfolio as of March 31, the Fund's report indicated.
The value of its Russian assets is estimated at $1.29 billion. In the first quarter of 2013, the share of Russian securities continued to grow, adding 1.8 percent.
Russian bonds came in second in the portfolio, slightly behind Japanese securities (10.7 percent), suggesting the fund invested more in Russian bonds than U.S., British or German instruments.
Sovereign and Vnesheconombank bonds account for almost $400 million of the Fund's Russian investments. The rest are distributed between various corporate bonds, including Gazprom, Sberbank, Novatek, MTS, VimpelCom and VTB.
In addition, the Fund had 4.5 billion ruble ($141 million) bonds for settlement in April and June.
"I cannot remember any big funds making such significant investment in Russian bonds," said Aleksei Korolenko, portfolio manager at Uralsib Asset Management, attributing it to the Fund's "unrestrained appetite for risk."
Meanwhile, many global investment funds have minimal exposure to Russian assets. Aberdeen Global Fixed Income Fund, for one, has none. Capital World Bond Fund's Russian assets account for $22 million (out of a total of $13.1 billion) while Templeton Global Bond Fund has $814 million in Russian assets (out of a total of $73.1 billion).
No representative of the Oppenheimer fund was available for comment. In the Fund's report, management states that its intent in the first quarter was to "increase the share of corporate debt instruments of emerging markets, Russia and Brazil in particular."
They expect interest rates to remain stable on the developing markets, with just a small chance of an increase.
Sergei Suverov, of Russian Standard Asset Management, opined that the large share of investment in Russian bonds may be linked to their relatively high yields against the background of the generally low ruble volatility, relatively low public debt against GDP and prospects of the government relaxing monetary policy.
The Oppenheimer International Bond Fund is not the only fund in the Oppenheimer family to show high investment in Russian assets. The Oppenheimer Global Strategic Income Fund holds $590 million worth of Russian assets (a share of 5.2 percent), the second highest in the portfolio.
The United States leads with 65.3 percent of the portfolio, but in other respects its composition is very much like that of the Oppenheimer International Bond Fund.
As of the end of 2012, the Government Pension Fund of Norway (worth $650 billion as of September 30, 2012) has increased investment in Russian government bonds. The fund upped investment 16-fold, from $179 million to $2.97 billion.
First published in Russian in Vedomosti.
All rights reserved by Rossiyskaya Gazeta.