UK's Vostok Energy headed for Russia?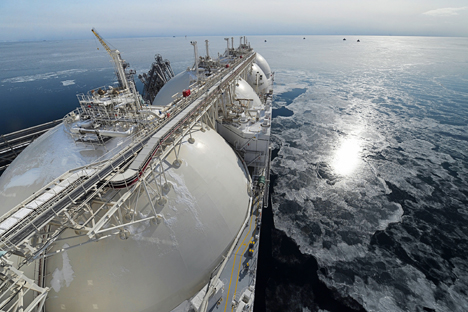 Alliance Oil is trying to develop its gas business, which it can monetize through its agreements with Gazprom. Source: RIA Novosti
Alliance Oil announces another public offering, to potentially fund the purchase of Vostok Energy.
UK exploration and production company Vostok Energy might have a new bidder in the form of Russia's Alliance Oil, which has recently upped its interest in gas assets following the purchase of SN-Gazdobycha in Tomsk Region last year.
The purchase is likely to be funded by the $100 million set to be raised in the additional public offering of Alliance Oil shares, which was announced in early June.
Vostok Energy, which has been up for sale since last year, has attracted interest from yet another Russian company. A source close to the deal has told Kommersant that negotiations have begun with Alliance Oil Company.
Vostok Energy is valued at $100 million, and one of the conditions of its sale is that its $60 million bonds be repaid. Alliance Oil Company has refused to comment.
Last year, Vostok Energy was approached by TNK-BP, EuroChem and KazMunayGas. TNK-BP was thought to be the favorite to land the contract — until the company was itself bought out by Rosneft and plans to purchase Vostok Energy were promptly abandoned.
Yet it is too early to consider it a done deal for Alliance Oil, since "negotiations are ongoing," according to one Kommersant source.
In early June, Alliance Oil announced an additional public offering of its shares, through which it hopes to raise $100 million. "We are currently considering the possibility of acquiring certain assets in the Russian oil and gas sector," Managing Director Arsen Idrizov's announcement read.
Alliance Oil raised $202 million earlier this year with an additional public offering, and it made $500 million in April by offering 7-year Eurobonds.
Vostok Energy owns the Bartovoy block in Saratov Region, which includes a number of fields with reserves estimated at 10 million cubic meters (353 million cubic feet) of gas and 2.2 million tons of condensate. The company works with Dial Alliance in Russia.
In 2012, Vostok Energy produced 2.5 million barrels of oil equivalent. That figure is expected to rise to 12.5 million barrels by 2017. Last year, it attempted to raise $500 million in funding — half of which it hoped to raise through its own IPO on the London Stock Exchange.
However, the IPO never took place and shareholders decided to sell the company.
Vostok Energy's principal owner is Alexander Kapelson, who controls 22.1 percent of the shares. Another 20 percent belongs to the Landsdowne Partners fund, and 17.9 percent is in the hands of Artemis Investment Management.
The remaining shares are divided up among the top-level management and a number of private investors.
Kapelson was at the center of a scandal in 2009, when he was accused of using corrupt practices to obtain loans from the European Bank of Reconstruction and Development. Kapelson declined an interview with Kommersant in early June.
Alliance Oil is aggressively developing its gas business. Last year, the company purchased SN-Gazdobycha from Alltech Group for $128 million.
It also holds licenses for the Ust-Silginskoye and Kargasoksoye oil fields in Tomsk Region, which have reserves of 112 million barrels of oil equivalent. Production was launched in February, with the company selling the gas to a Gazprom subsidiary.
"One hundred million dollars for Vostok Energy works out a roughly $0.13 per barrel of reserves, which can be considered the average price per asset," says Kapital analyst Vitaly Kryukov.
Alliance Oil is trying to develop its gas business, which it can monetize through its agreements with Gazprom, according to Kryukov. New assets will allow Alliance Oil to increase production and compensate for the decline in other fields.
First published in Russian in Kommersant.
All rights reserved by Rossiyskaya Gazeta.