Kremlin reshuffle: Two key economic posts filled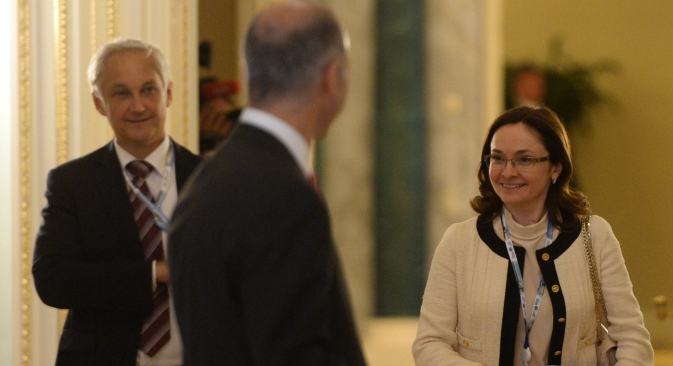 Elvira Nabiullina is the first woman ever to head Russia's Central Bank. Source: ITAR-TASS
Putin appoints new Central Bank chief and new head of the Ministry for Economic Development.
Elvira Nabiullina became the new head of Russia's Central Bank at the beginning of this week. Her appointment triggered a reshuffle not only at the Central Bank but also within the Russian government, as Alexei Ulyukaev was also named the new minister for economic development.
Nabiullina is the first woman ever to head the Bank of Russia. Her predecessor in this post, Sergei Ignatyev, has become her official adviser, having served as head of the Central Bank the maximum three terms allowed by law.
The reshuffle at the Central Bank did not end there, however. On June 24, the Kremlin also announced the appointment of senior deputy chairman of the Central Bank, Alexei Ulyukaev, as minister for economic development. The former minister for economic development, Andrei Belousov, moved to Nabiullina's former job as Vladimir Putin's economic adviser.
"I hope for continuity in the economic adviser's work. It's important for anyone leaving a position to see their key initiatives continue," Nabiullina told Kommersant.
Nabiullina's appointment as the Central Bank chief has drawn a mixed reaction from Russian society. Above all, she is considered to be Putin's protégé: Before joining the Central Bank, she worked as his economic assistant and, before that, served as minister for economic development.
Thus, the Russian and international business communities have expressed concern that she might be less independent from the president's views than Sergei Ignatyev was.
An opinion has also been expressed that, under the new management, the Central Bank might focus more on economic growth, given Nabiullina's background.
Since Putin nominated Nabiullina for confirmation by the State Duma, the Russian professional community has been split: Some experts have emphasized the need for continuity in Russia's monetary policy, while representatives of Russian business circles have been hoping that the Central Bank will switch to a long-term accommodative policy.
The latter is what Putin has insisted upon, and Nabiullina is expected to take steps in that direction. This is what caused a media storm about the reshuffle at the Bank of Russia, following Nabiullina's appointment there.
As for Alexei Ulyukaev, he is a staunch supporter of tight monetary policy. Ulyukaev, who had been senior deputy chairman of the Central Bank since 2004, was considered a contender for the top job there. In recent years, he has acted as the Bank of Russia's main spokesperson in explaining the regulator's actions. Ulyukaev joined the Central Bank after serving as deputy minister of finance for four years.
U.S. Ambassador to Russia Michael McFaul congratulated Ulyukaev on his new job.
"Congratulations to my old acquaintance Alexei Ulyukaev on his appointment as Minister for the Economy," he tweeted.
It should be noted that Russia's business community and government have held opposing views on monetary policy in recent years. Proponents of a tight policy, including Ulyukaev, believe that keeping discount rates at a high level restricts the money supply and helps fight inflation. Opponents of this view, such as Sberbank head German Gref, insist that high interest rates put pressure on lending and thus stifle economic growth.
According to Forbes Russia, Ulyukaev might be replaced at the Central Bank by Ksenia Yudaeva, who has headed the President's Expert Directorate for almost a year. Before this, she spent five years as chief economist of Russia's largest state-owned bank, Sberbank. Yudaeva is currently serving as Russia's G20 Sherpa.
In an interview with Forbes at the St. Petersburg International Economic Forum, Yudaeva refused to comment on her potential move to the Central Bank, although she did quip: "Not on Monday – I have the G20."
All rights reserved by Rossiyskaya Gazeta.