Apple launches its online store in Russia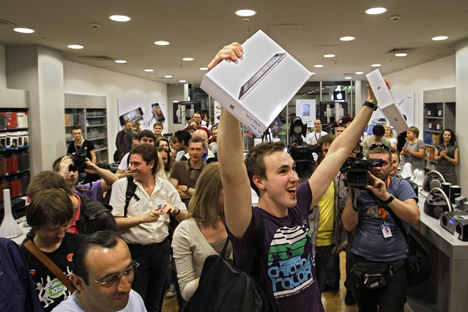 Apple itself started supplying its products to Russia, whereas previously it had worked with distributors. Source: AP
Russian consumers can now buy Apple products directly from the company's website.
The Apple website in Russia, now features an Apple Online Store, and Russian consumers will be able to purchase Apple devices directly from the company's website. Any Apple device can be bought from the store, including the iPhone 5, which starts at 29,990 rubles ($909).
Online customers can pay by bank card online or pay a courier in cash when their device is delivered. In addition, delivery is free for orders above 40,000 rubles ($1,216).
Apple also vows to offer warranty for all its devices. So far, the store only operates in Moscow and St. Petersburg, with products to be delivered by DHL.
"I don't think Apple's own online store in Russia will have an impact on Apple sales here," says Tikhon Smykov, general director of Inventive Retail Group, which operates the re:Store chain.
He does, however, believe that the impact on resellers' online stores will be devastating, as they will be faced with tough competition and a loss of customers.
It was reported in February that Apple was planning to open an online store in Russia. The company was looking to hire a support service manager to liaise with visitors to its online store.
Apple itself started supplying its products to Russia, whereas previously it had worked with distributors. Currently, Apple's partners purchase its products directly from the American manufacturer.
Other consumer electronics retailers had expected the opening of the Apple store in Russia to help curb the grey market. Many continue to bring in Apple devices from abroad (from the United States and Asia) at lower prices than those charged in Russia.
Apple devices have the same price tags in Russia as they have in Europe, a spokesperson for re:Store said at the time.
Market players had expected the official store to offer Apple devices cheaper than elsewhere. The iPhone 5 is available in Apple Online Store starting at 29,900 rubles ($909), while the Svyaznoy chain offers it starting at 26,900 rubles ($818).
Yet the new 11-inch MacBook Air is available in the official store at 41,990 rubles ($1,277), while buying it from re:Store will set consumers back 47,900 rubles ($1,459).
First published in Russian in Vedomosti.
All rights reserved by Rossiyskaya Gazeta.