Lending rates for small and medium enterprises to go down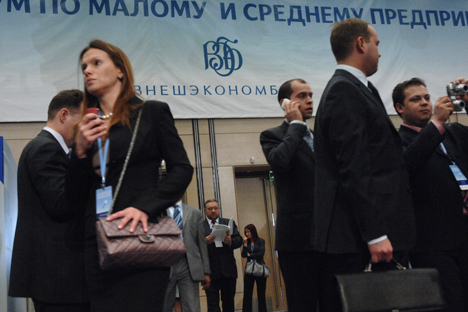 Vnesheconombank may offer loans to small and medium-sized businesses at an unprecedentedly low interest rate of 6.25 percent. Source: Foto Imedia
The government has promised a nosedive in interest rates on small and medium-sized business loans from the current 16 percent to a record low of 6.25 percent, bringing them closer to the European level.
The Bank for Development and Foreign Economic Affairs (Vnesheconombank) State Corporation may offer loans to small and medium-sized businesses (SMEs) at an unprecedentedly low interest rate of 6.25 percent, Vedomosti reports, citing a source close to the corporation.
Granted governmental approval, businesses will be able to access cheap long-term money, banks will expand their funding base, and the country's indicators will inch closer to those of developed nations.
The rate could be lowered as part the Ministry of Economic Development's program for providing small and medium-sized businesses with easy access to funding; this includes a possible allocation of up to 100 billion rubles (about $3.3 billion) from the National Wealth Fund to support business lending.
Presumably, the funds will be deposited with Vnesheconombank at an annual interest of 5.25 percent, for a term of 10–12 years.
As it happens, Russia's lending rates are considerably higher than those abroad. While interest rates in Europe and North America for SMEs fluctuate between 5 and 7 percent, bankers cite 16 percent as the most frequent lending rate in Russia, irrespective of the industry, the National Rating Agency reports.
According to the agency, corporate lending rates averaged 10–12 percent per annum on ruble loans across the banking sector in the first half of 2013.
What is behind such a wide gap in lending rates, and what is the fundamental difference between the Western and Russian business funding models? The fact is that, in developed countries, small businesses operate in a far more comfortable legal and tax environment, while banks have cheaper sources of funding.
In addition, in Western countries, a higher percentage of people in proportion to the overall population run their own businesses, compared to the relatively low number of people wishing to set up a business in Russia.
High funding costs and increased risks facing SMEs in Russia are the primary factors keeping the rates high, as the executive director of the Center for Macroeconomic Research, Mikhail Kuzmin, has suggested.
In his estimation, even if the program contemplated by the Ministry of Economic Development is eventually rolled out, lowering lending rates for SMEs to the general level observed in Western countries across the board—that is, by all banks—does not seem to be an attainable goal.
The reason is primarily that Russian banks are reluctant to lend to small and medium businesses, as they are more focused on the retail sector, which generates higher earnings and a strong demand for banking products.
In addition, to lend to SMEs, Russian banks are required to complete the same cumbersome procedure for evaluating the risks and solvency of the prospective borrowers as they do for big business; this raises the costs for banks involved in working with small businesses.
Furthermore, the cost of the funding that banks extend as loans has not been getting any lower. "Commercial banks' liabilities are mostly made up of private deposits they are raising at 9–12 percent a year. Add to this a margin of, say, 3.75 percent, and there you get the rates of some 12.75–15.75 percent," Maksim Vasin, senior analyst at the National Rating Agency, said in concluded.
All rights reserved by Rossiyskaya Gazeta.