Apple makes an exception for Russian retailers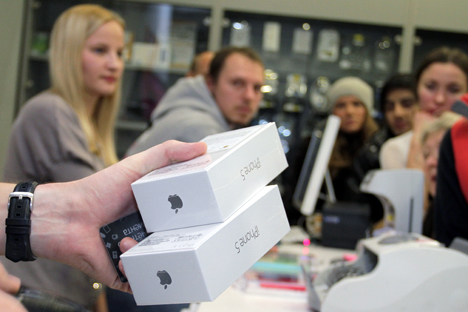 The retail price of Apple smartphones is unlikely to fall even as the circle of distributors widens—it is already as close as possible to the European price. Source: RIA Novosti
The iPhone distribution system used all around the world has not worked in Russia. For the first time ever, Apple has made an exception, having stopped importing smartphones via mobile carriers and having agreed to ship directly to retailers.
Apple is negotiating with retail electronic stores about directly delivering iPhones to them, sources close to three Russian retailers have disclosed to Vedomosti newspaper. The negotiations are still preliminary, and the specifics of cooperation have not yet been discussed, added one of the sources.
Another source hopes that direct iPhone deliveries will start in the beginning of the fall—traditionally a high-volume season for sales.
Apple has attempted for several years to sell the iPhone in Russia the same way they sell them in most countries: through cellular carriers. In 2008, Apple signed a distribution agreement with the leading players on the market—MTS, MegaFon and VimpelCom—allowing them to import iPhones for sale in their stores and ship to third party dealers.
Under the agreement, each carrier committed to buying a specific number of devices in a set amount of time—on average, about 1–1.5 million units over two years.
However, it soon became clear that there was not a high enough demand in Russia for the iPhone (especially for 30,000 rubles, or about $925, which was the price recommended by Apple), and it would not be possible for retailers to fulfill their obligations.
In the end, MegaFon and MTS did not extend their contracts with Apple; in mid-July 2013, VimpelCom did the same, right after signing a direct distributor agreement with Samsung.
Apple had demanded that the carriers invest substantial resources in promoting the iPhone; however, a large number of Apple phones were sold through wholesale channels and not through the VimpelCom retail network, explains Eldar Murtazin, leading analyst for Mobile Research Group.
He believes that the retail system was unsuccessful, because phones are not usually sold with contracts in Russia like they are in other countries. It is not only an unprofitable business for Russian cellular carriers, but an unfamiliar business, as well.
The MTS network of stores has not ruled out signing a new iPhone delivery agreement—but only if Apple offers more lucrative conditions, says the company's representative, Irina Agarkova. For MegaFon, according to its press secretary Yulia Dorokhina, renewing the contract with Apple is also a question of the right conditions.
So far, Apple has reached an agreement on iPhone distribution with only one Russian retail network—Svyaznoy Company. It has not yet decided who else it will trust to import iPhones to Russia, says an executive manager of one of its distributor companies.
At the end of last week, the issue was raised at Apple's London headquarters by the managers of its Russian and European offices. It is possible that Apple will deliver these smartphones to Russia itself, but it is far from certain that it will be able to fully meet demand, speculated the Vedomostisource.
According to him, a few companies, including Apple's existing distributors, have already proposed becoming its partners and have prepared business plans.
In the fall of 2012, Apple agreed to directly deliver the iPhone to Svyaznoy. After Svyaznoy switched to a new system, they tripled the number of Apple devices sold in 2012, largely due to the fourth quarter, Svyaznoy's general director, Michael Toch, reported to Vedomosti.
The general director considers the old system, which only involved carriers, far from ideal, because the retailer too often received only leftovers from them.
The switch to supplying iPhones directly to other retail networks will not have an impact on their sales at Svyaznoy, Toch claims, because the potential sales of these smartphones are still very high.
The retail price of Apple smartphones is unlikely to fall even as the circle of distributors widens—it is already as close as possible to the European price, according to analyst Alexander Vengranovich of Otkrytiye Kapitala.
Article uses some materials fromVedomosti
All rights reserved by Rossiyskaya Gazeta.