Central Bank worried about consumer debt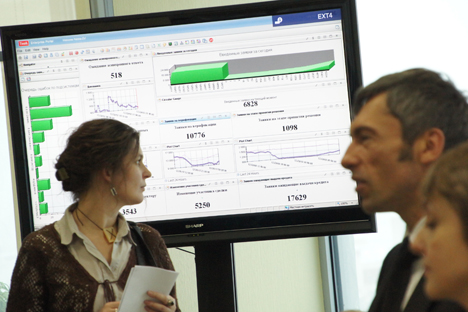 Analysts believe the threat of borrowers defaulting is increasing for reasons other than unwillingness to repay the debts. Source: Sergey Kuksin / RG
The Central Bank of Russia is strongly concerned about potential mass defaults on consumer debt. To cool down the market, the regulator is planning to introduce caps on loan amounts.
The Central Bank of Russia intends to amend the legislation on consumer lending. The regulator's anxiety is justified: Consumer loans have almost doubled in volume over the past two years to 8.8 trillion rubles (as of July 2013), which is roughly equivalent to $266 billion. According to the Central Bank, the retail lending market expanded by 39.4 percent last year alone.
Not long ago, Russians were astonished at how Americans live in perpetual debt. Today, it is hard to find a Russian who lives in a large metropolitan area and has not borrowed from a bank at least once. Russians are not deterred even by sky-high APRs, which often exceed 20 percent.
According to credit bureaus, there are around 34 million retail borrowers in Russia — just under half of its economically active population. That number is as high as 100 percent in some regions.
Banks, in turn, are sparing no efforts to woo customers; for instance, they partner with retail chains to offer loans under slogans such as "zero percent overpayment." Bank clerks also cold-call salary card holders, touting preferential loan terms that are allegedly tailored to meet their specific needs.
The problem has become rather acute, with many borrowers in arrears. According to the Central Bank, the portfolios of Russian commercial banks contain problem retail loans — those overdue for more than 90 days — worth 426.6 billion rubles (around $12.9 billion). Not only that, but such loans have grown year-to-date at double the rate of all of 2012.
According to a study by Svyaznoy Bank based on National Bureau of Credit History and Equifax data, the share of borrowers with five or more loans rose in 2012 from 6 percent to 19 percent.
The total debt amount for such borrowers exceeded 500,000 rubles (around $15,000) — double Russia's average per-capita income in 2012.
Analysts believe the threat of borrowers defaulting is increasing for reasons other than unwillingness to repay the debts. In fact, many take out fresh loans to repay existing ones. According to Garegin Tosunyan, president of the Association of Russian Banks, the fact that the household income growth is trailing the growth in loans is disconcerting.
"Certain parallels could be drawn with subprime loans in the United States: Borrowers could not always realistically assess their ability to repay and service their debts, while banks operating in a highly competitive market environment were forced to relax lending standards to issue more loans," Dmitry Gritskevich, a portfolio manager at Promsvyazbank's Investment Department, said.
The Central Bank's Financial Stability Department director, Vladimir Chistyukhin, announced in late July that, in order to avoid borrower defaults, the regulator was planning to limit the full value of consumer loans, as well as the maximum share of borrowers' income to be spent on loan servicing.
The Central Bank is also contemplating a stricter version of the approach based on debt-to-income ratio (DTI) — one that would prohibit banks from lending to customers with DTIs exceeding a certain threshold.
A softer approach would allow banks to lend to customers with elevated DTIs, but it would also introduce stricter standards for compliance with risk ratios and reserve requirements.
Going forward, analysts believe the consumer lending market will be growing at a slower pace. They also believe the Central Bank's plans are quite reasonable.
"People had to postpone buying things during the crisis and then rushed to make up for it in 2011 and 2012. This effect has now run its course. Despite decent employment and household income numbers, Russia's retail is slowing down. Accordingly, demand for consumer loans is weakening. The portfolio will grow by around 25–30 percent in 2013," said Home Credit Bank analyst Stanislav Duzhinsky.
"The Central Bank, as the regulator, and commercial banks have started acting preventively, which should bring down the growth rates of consumer lending. For example, major consumer lenders have already been tightening their credit policies and scoring standards, approving fewer and fewer applications while improving the efficiency of collecting arrears. Smaller banks that maintain aggressive lending practices in a highly competitive retail lending segment could end up being vulnerable," Gritskevich said.
The portfolio manager added that the Central Bank would simply legislate restrictions that many banks have been implementing on their own. According to Tosunyan, the Central Bank's planned lending caps are a reasonable economic mechanism, designed to limit the appetites of borrowers and banks alike.
All rights reserved by Rossiyskaya Gazeta.