Moscow to spend $18 billion on subway construction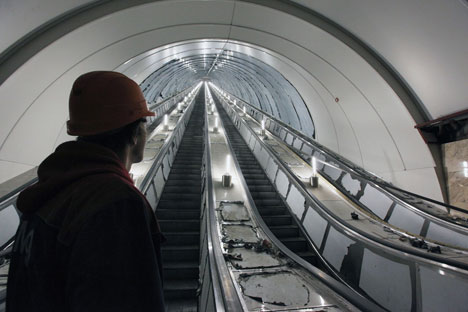 Moscow authorities have pledged to build 98.4 miles of subway rail lines, 79 stations and 9 new depots by the end of 2020. Source: PhotoXpress
A contract of record amount will be placed on open bid for construction work and the commissioning of subway facilities in Russia's capital.
The government procurement website published information inviting companies to make bids on a contract for the execution of turnkey construction and the commissioning of subway facilities. The winner will serve as the technical customer: conducting survey work, developing design and working documentation, and, finally, carrying out the construction and assembly work, as well as supplying all the equipment.
"This is an integrated program—we wish to have one operator coordinating all the activities," said one Moscow City Hall official. "All the lines are interrelated, in terms of deadlines, cost, technologies, standardization and applicable standard solutions." The official believes that large companies such as the city organization Mosinzhproyekt, as well as Mosmetrostroy, USK Most and Stroygazkonsalting, will participate in the tender.
Moscow authorities have pledged to build 98.4 miles of subway rail lines, 79 stations and 9 new depots by the end of 2020, which will cost about 1.1 trillion rubles ($33.3 billion). All the major subway construction companies of the country have been invited to this major construction project, among them being Mosmetrostroy, Ingeokom, Transinzhstroy, Bamtonnelstroy (part of USK Most), Kazmetrostroy and Stroygazkonsalting. In total, all these companies are building 33.8 miles of the subway.
Alexey Bezborodov, an expert at the Infranews Analytical Center, estimates the cost of construction of one kilometer of the Moscow subway at about $200 million. According to rough estimates, the construction worksites, which are already being developed, may cost 350 billion rubles ($10.5 billion); one City Hall official says that the construction projects currently underway can be estimated at 250 billion rubles ($7.5 billion). Public sources do not have any information available about the cost of the construction of the lines that are already in operation.
Based on materials from Vedomosti.ru.
All rights reserved by Rossiyskaya Gazeta.