Navalny gets support from innovation entrepreneurs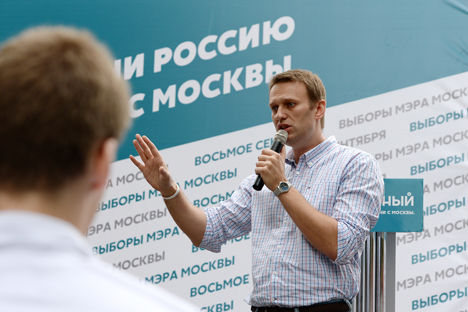 Aleksei Navalny, Moscow Mayor hopeful from the RPR-PARNAS Party, facing his electors at the gardens in the Leninsky Avenue, Moscow. Source: RIA Novosti
Alexey Navalny, Russian opposition leader, has received support from a group of 38 digital industry businessmen in the race for Moscow mayoral election.
Alexey Navalny, a prominent Russian anti-corruption blogger, has received support from a group of 38 Russian digital industry entrepreneurs in the race for Moscow's mayoral office.
Navalny undertakes his campaign as a convict and thus creates political uncertainty, an element absent in recent Russian elections.
After being sentenced to five years in jail on July 18 on embezzlement charges in a court ruling that many tend to consider politically motivated, Navalny was released the very next day with travel restrictions, pending appeal, in a bizarre twist of logic.
Navalny will be able to participate in the Moscow election if the Russian court does not uphold his conviction before September 8, 2013. Therefore, business people from sectors as diverse as e-commerce and headhunting, who "respect Navalny for his confidence and readiness to sacrifice personal freedom by standing up for his principles," signed a "social contract" with him in late July.
They expect him to step up his crusade for the rule of law in Russia if and when he gets elected and offer him broad-based backing. In their open statement, the signatories emphasized that they "are entrepreneurs in the new economy of knowledge," building their businesses around "added intellectual value rather than oil profit margins" and respecting the supremacy of law, independent justice, and free elections as "the paramount mechanisms… without which sustainable business is impossible."
The entrepreneurs called attention to the triumph of 'telephone justice' over the human rights in Russia today since government officials influence trials via phone calls to judges, coerce businesses to partake in corruption, and place "thousands of businessmen behind bars on falsified charges."
The signatories believe the court's decision to incarcerate Navalny "is every Russian businessman's concern," as it sends a clear signal that "any entrepreneur can be jailed just for selling or buying goods or services." The precedent equates "all Russian businessmen with criminals," they pointed out.
With the Moscow mayoral election drawing near, the business representatives believe they all now "have a chance for change." In their open statement they denounced the popular "business-people-do-not-meddle-in-politics" stance as "cowardice and hypocrisy."
For the signatories, "politics influences business directly" and "seeking alliance and political representation is part of our job and our unequivocal social responsibility."
"Both we and the politician Navalny are interested in making the government machine a servant of the law. This is why we support him as candidate for the upcoming election," the 38 signatories stated in the conclusion of their open letter.
No innovation without rule of law?
"It was almost as if Navalny went to jail for all of us. Now we should all publicly show our support," said Elena Masolova, a prominent Internet entrepreneur – she co-founded Groupon Russia back in 2010 – and a signatory of the "social contract."
Other signatories include Boutique.ru founder Denis Belov, Wikimart.ru co-founders Maxim Faldin and Kamil Kurmakaev, Daniil and David Liberman of Brothers Ventures, Zeptolab chairman and CEO Misha Lyalin, and Sergey Sushentsev, the representative of Germany's Rocket Internet in Russia.
Coming as the first significant political initiative from this sector, their move suggests that the Russian government's pro-innovation policies will not be successful as long as they are contradicted by the same government's regressive stances on political, legal, and social issues.
Navalny still faces an uphill battle in his electoral clash with Sergey Sobyanin, the incumbent Moscow mayor and a political heavyweight. Some insiders believe that Sobyanin may have been behind his challenger's orchestrated release in July, as he hopes to add vivacity to the election and to win decisively against a new political celebrity that Time Magazine named one of the world's 100 most influential people last year.
VTsIOM, a leading Russian opinion research company, confirmed earlier this week in a poll result that Navalny would have a tough time defeating Sobyanin. With his 9 percent of potential votes, the young politician's victory seems like a long shot since the incumbent mayor's is currently expected to win 55 percent of potential votes.
First published in East-West Digital News.
All rights reserved by Rossiyskaya Gazeta.