KFC to double its restaurants in Russia and CIS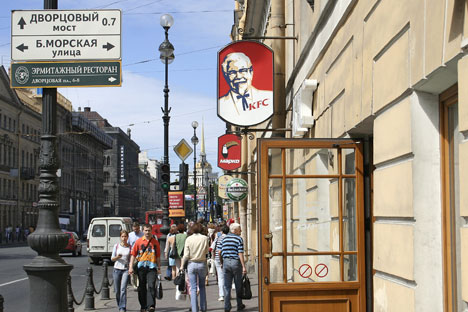 In Russia, the proportion of its own KFC restaurants is 24.4 percent. Source: ITAR-TASS
Opening a store from this fast food restaurant chain costs considerably more than with McDonald's or Subway.
KFC plans to bring the number of locations in Russia and the CIS to 450 by 2015, said Oleg Pisklov, director general of Yum! Restaurants International Russia & CIS. There are currently 250 establishments in the region. The commemorative 250th store opened in early August in the Paveletsky Station building in Moscow.
Just over 50 of the network's establishments operate in Armenia, Ukraine, Kazakhstan, and Azerbaijan. The rest are in Russia, the Yum! Representative said. In the CIS, according to Pisklov, the restaurants will be opened in those countries where KFC already has a presence.
This ratio will not change after opening the new establishments and 80 percent of the network will still be located in Russia, said the company representative.
Andrei Petrakov, executive director of the consulting company Restcon, considers the company's plans quite realistic—Russia and the CIS may well accept 200 establishments. According to Petrakov, this is the correct strategy: Go where the competition has yet to make it and occupy the profitable spaces, which are already in short supply.
KFC specializes in chicken dishes and is part of the American restaurant holding Yum! Brands, which operates approximately 40,000 restaurants throughout the world (of these, 21 percent are their own). In Russia, the proportion of its own KFC restaurants is 24.4 percent. Last year, Yum!'s revenue totaled $13.6 billion.
The Russian market is one of the most important for the company, says Richard Carucci. According to him, the Russian subsidiary has shown the best results when comparing sales, and it has increased its revenue to 46 percent in two years (he did not reveal exact figures).
Based on data from SPARK-Interfax, the revenue of Yum! Restaurants Russia totaled 4.3 billion rubles ($130.7 million) last year.
It costs $700,000 to open one KFC restaurant, including a $46,900 lump sum payment. However, according to information on the company website, almost 80 percent of that sum goes toward construction and installation work, process equipment, furniture, decoration and advertising.
Petrakov says the investment is "quite adequate." But investments into opening other fast food establishments are more modest. For example, an investment of between 30 million and 150 million rubles is needed to open a McDonald's, and only 3 million rubles is required for a Subway.
Subway is a leader among fast food chains in Russia by number of locations: There are now 582 in the network. It is precisely the favorable terms of the franchise—modest investments in comparison with other global fast food chains and a fast return—that has allowed Subway to nearly double its network in a year and a half, thinks the vice president of Subway Russia, Gennady Kochetkov (who shared his commentary through a representative).
The number of establishments under the brand Subway may reach 1,000 by the end of 2015. The market for fast food here was and still is the most promising, says Kochetkov, explaining the reasons of rapid growth.
McDonald's occupies second place in terms of number: There are 378. This network plans to develop in a more restrained fashion. The company expects to open 150 restaurants in Russia during the next three years, said Khamzat Khasbulatov, the president of McDonald's in Russia and Eastern Europe last February.
Teremok and Kroshka Kartoshka, local players specializing in national cuisine, occupy a slightly weaker position in the Russian fast food market. According to the Business Petersburg journal, the turnover of Teremok, which offers customers pancakes with various fillings, totals about 3.5 billion rubles ($106.4 million) a year; the chain has close to 200 locations. In 2003, the company plans to invest $4-5 million in opening 17 new spots in St. Petersburg.
First oublished in Russian in Vedomosti.
All rights reserved by Rossiyskaya Gazeta.