Four essential apps for overseas students in Russia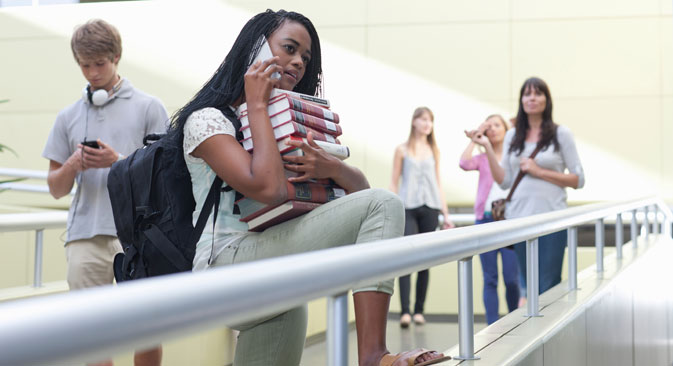 Education market knocks down conventional boundaries of time and geography. Source: Shutterstock
How to create your own personal database, learn languages with detailed dictionaries, and not forget about the one you love in the middle of all this studying.
August is upon us, and this means that many of us will soon be going back to school or university. Today's education market knocks down conventional boundaries of time and geography.
Online universities give everyone the opportunity to learn, regardless of age, and classic brick-and-mortar universities are offering more and more grants and scholarships to overseas students.
If your educational trajectory has brought you to Russia, then there are several apps — carefully selected by RBTH — that can help you succeed and keep your composure in a country where one in every four adults has a higher education.
1. Evernote
Evernote was created in 2004 by programmer Stepan Pachikov as a kind of "external memory" for users, gathering all kinds of different information in one place. In its most recent version, Evernote lets you save text, pictures, photographs, audio recordings and emails in one place, creating a personalized database for each of its 50 million users.
Source: AppStore
It can also work as a student's individual education archive. A free account gives you 60 megabytes of space per month, while $5 will buy you a monthly allowance of one gigabyte (or you can pay $45 for a one-year subscription). There are versions for virtually every kind of computer and mobile device, so you can synchronize your notes and always have all the materials you need for class.
Start building your own database at Evernote.
2. Abbyy.Lingvo
A French language exam in the spring of 1989 inspired Moscow Institute of Physics and Technology student David Yang to create an electronic dictionary. A few years later, he was the head of ABBYY—a world leader in the professional translation industry, with offices in Europe and the United States.
Source: AppStore
For those studying abroad, the young physicist's invention is not only a great help in their studies, but it also helps them to keep afloat in a sea of completely foreign words and phrases.
Learn your first foreign word at Abbyy.
3. Yandex.Metro and Yandex.Maps
The Russian Internet giant has managed to create an entire ecosystem of complementary services that are particularly useful for everyday life, used both together and on a stand-alone basis. We have chosen two that might be of use to foreign students in Russia.
Source: AppStore
If you are coming to Moscow, then Yandex.Metro is a must. The app offers detailed, interactive maps of the Moscow underground system and allows users to plan the best route. Another advantage of Yandex.Metro is that it can tell you how long the journey will take. This is pretty useful if you are planning on getting to classes on time, don't you think?
On a larger scale, if you are likely to be traveling around the country, then Yandex.Maps is just as helpful. In addition to detailed maps, it lets you plan routes and keeps you abreast of traffic problems. You will never be lost in this vast country with Yandex.Maps.
You can choose your station and get the correct coordinates.
4. Couple
When you leave to study in a foreign country, it is inevitable that you will end up missing the familiar streets of your youth and the neighbors that you have known since childhood. But nothing can bring a person down as much as being away from a loved one.
hankfully, there is an app that lets you make the best of both worlds — getting a full education while not missing out on your personal life. The app is called Couple (it was called Pair up until 2013), and it markets itself as a social network for two.
Source: AppStore
The small but beautifully designed app takes the responsibility for micromanaging that sphere of life. It has a joint calendar, to-do lists and a separate section for all your special photos.
You can draw pictures together or send each other funny stickers. The Thumbkiss function is particularly sweet: Users "kiss" by pressing the tips of their thumbs to a special window in the application.
An interesting fact about Couple is that, even though the project has Russian roots (three of its four founders are from Russian émigré families), there is currently no Russian-language version of the app.
Make a long-distance relationship work at Couple.
All rights reserved by Rossiyskaya Gazeta.