Analysts give Russian IT company favorable forecast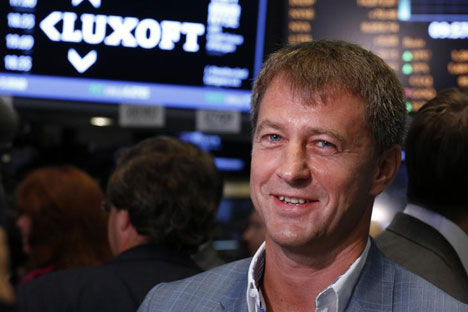 By the end of the year, Luxoft intends to increase revenue up to at least $378 million. Source: Reuters
The high-tech Russian company Luxoft, whose shares recently began trading on the New York Stock Exchange, reported stable income. The results show the general improvement of Russia's position as a global outsourcer.
In the first quarter of the current fiscal year (April–June 2013), Luxoft increased EBITDA to $14.4 million (46 percent) compared with last year; net profit rose by almost twice as much, up to $9.8 million. Revenues increased by 18 percent to $83.8 million, EBITDA profitability was up 3.3 percent to 17.1 percent.
Luxoft earned the lion's share of the income (67.8 percent) from the financial sectors of the U.S. and the U.K. Customers in this sector were responsible for 55.8 percent of Luxoft's revenue, compared with 53.9 percent one year earlier.
The most dynamic growth was in the financial sector and the automotive industry, explained Vedomosti general director Dmitry Loshchinin. Sales contracts with established and key customers increased, and several new, significant deals were signed.
Loshchinin believes the increase in cost-effectiveness is due to the growth in sales volumes, the decrease in the number of employees not involved in projects, as well as the weakening of the ruble (a large share of Luxoft revenue is held in other currencies).
By the end of the year (March 2014), Luxoft intends to increase revenue up to at least $378 million (20 percent) and keep EBITDA profitability at 17–19 percent. This is slightly below the forecast of the Otkrytiye Kapital investment company. Their analyst Alexander Vengranovich expects that Luxoft will finish the year with $379 million in revenues and profitability at around 19.4 percent.
In June 2013, Luxoft sold 12.6 percent of its shares at $17 per share on the New York Stock Exchange. When the markets closed on Aug. 13 (on the eve of the financial report) quotes exceeded $25.8; by Aug. 16, 8:30 p.m. Moscow time, they fell by 8.1 percent to $22.84.
According to Vengranovich, this can be attributed to the general decline in American stock indices, as well as to corrections after tangible growth in quotes during days leading up to quarterly reports.
The analyst calculates the price of Luxoft stock will be $26 a year from now. He sees no fundamental reasons to expect deterioration in Luxoft performance. The company reported a major contract with a car manufacturer, as well as the continuation of a number of contracts with financial organizations that had been deferred from 2012.
In the past year, many financial institutions either cut IT expenditures or increased them very cautiously, according to VTB Capital analyst Anastasia Obukhova (she expects Luxoft shares to be worth $27 in a year).
As she explained, many international banks are planning to spend more on IT development this year, which creates opportunities for Luxoft, increasing the proportion of American customers for Luxoft.
The economy of the United States is beginning to improve, and the macroeconomic situation in Europe is stabilizing. Looking at capitalization versus net profit for 2014, Luxoft is almost on the same level with IT outsourcing companies such as Infosys or Wipro (both Indian companies). The consensus of Bloomberg is that this daughter of the IBS Group is forecast at 16.8, says Obukhova.
First published in Russian in Vedomosti.
All rights reserved by Rossiyskaya Gazeta.