PayPal will begin settling accounts in rubles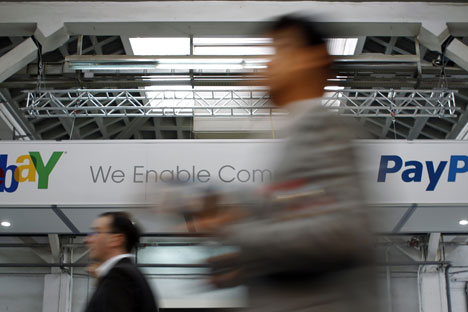 Russian users will be able to transfer funds to their PayPal accounts in practically any local bank. Source: Reuters
The payment system is set to start trading using Russian currency.
PayPal, the world's largest payment system, which is owned by the American online auction site eBay, will begin trading in rubles on Sept. 17. This will make trading on eBay itself easier for Russians. However, it is doubtful that this will strengthen PayPal's position in the short term in Russia, where the system is in fourth place after Yandex.Money, Qiwi.Wallet and WebMoney.
In a Digit.ru interview, the regional director of PayPal in Russia, Vladimir Malyugin, explained that Russian users will be able to pay for their purchases via PayPal in rubles starting Sept. 17. They will also be able to transfer funds to their PayPal accounts in practically any local bank. Up until now, all PayPal operations in Russia were carried out using the U.S. dollar.
According to participants in the Russian e-commerce market, the true value of PayPal is first and foremost as a forum for cross-border trade, where consumers make purchases in e-shops overseas. Data Insight estimates that the total number of cross-border purchases in 2012 rose by 50 percent and stands at around 45 billion rubles ($1.3 billion).
The co-founder of Wikimart, Maksim Faldin, agrees that this is what so many eBay customers in Russia have been waiting for. "If the e-commerce business grows by 30 percent a year, then cross-border trading grows by 40–50 percent, and its leading player, eBay, grows even more quickly," says Faldin.
In April, the head of eBay in Russia, Vladimir Dolgov, stated that eBay's turnover in Russia in 2012 rose by more than 54 percent, up to $400 million (online auction turnover globally is $75 billion). In Dolgov's, the number of eBay users in Russia in 2012 had grown by 75 percent (this figure is not substantiated).
J'son & Partners estimate that the turnover for the local e-money market in 2012 grew by 72 percent, to 281 billion rubles ($8.5 billion). According to data from TNS Russia for March 2013, seventeen percent of Russians between the ages of 18 and 45 and living in cities with populations of at least 800,000 people use Yandex.Money; fourteen percent use Qiwi.Wallet, thirteen percent use WebMoney, nine percent use PayPal, and six percent use Dengi@Mail.Ru.
The first vice president of B&N BANK, Kamal Bushi, suggests that it is not worth it for PayPal to rely on strong growth in its client base in the short term, as the payment systems market in Russia has long since been divided between the principal players.
Moreover Qiwi and Yandex.Money, as well as other payment systems, have the advantage: They allow payments to be made for mobile communications, fines, community payments, provider services and credits.
Malyugin reported that PayPal is in talks regarding introducing a payment system with the largest Russian online retailers, though he did not specify a list of potential partners. Out of all the 'B' e-shops surveyed, only the hypermarket Ozon.ru confirmed that it was in talks with PayPal.
One source in the Russian e-commerce market announced that PayPal is asking for commission in the region of 2.5–3 percent of a transaction for use of the service. "It is unlikely that Russian shops would be interested in this right now: Customers pay for 90 percent of their purchases in cash," says Faldin. "When the market has gone cash-free, this could become relevant."
First published in Russian in Kommersant.
All rights reserved by Rossiyskaya Gazeta.