Russian banks pay record salaries to CEOs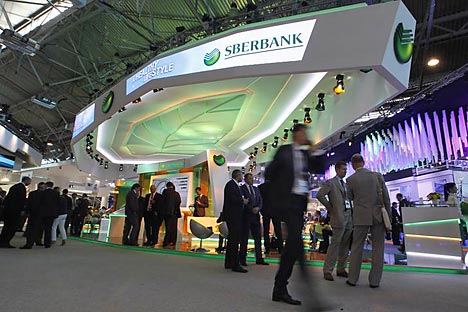 Sberbank, according to its quarterly report, paid the members of its executive board $6.3 million, compared with $5.5 million last year. Source: Reuters
Financial executives earn more, despite declining bank profits and economic slowdown.
The largest Russian banks, which are controlled by the state, have significantly increased the salaries of top executives in the first half of 2013, according to Slon.ru .
The credit organization Sberbank of Russia, according to its quarterly report, paid the members of its executive board 208.3 million rubles ($6.3 million), compared with 181.1 million rubles ($5.5 million) last year. The board of directors of the bank consisted of 14 people at the end of the second quarter of 2013.
The other two largest Russian banks proved to be even more generous. VTB24 increased compensation paid to its board of nine people by 5.8 times — up to 1.5 billion rubles ($48.2 million), versus the 274.5 million rubles ($833,000) it paid one year ago.
Gazprombank, which ranks third in assets in the Russian Federation, increased payments to members of its board (approximately 20 people) by five times — up to 1 billion rubles ($32.1 million).
Judging by quarterly reports, the increase in the payments is due in part to bonuses paid for work done in 2012. The board's salary in the first half of the year amounted to 194.4 million rubles ($5.9 million), and benefits and compensation were at 5.4 million rubles ($165,000).
As the publication noted, VTB24's quarterly reports show that the net profits of the bank (using Russian Accounting Standards) declined by almost 40 percent in annual terms, from 16.6 billion rubles ($504,000) to 10.3 billion rubles ($312,600).
Gazprombank had an even more noticeable drop in net profits in the first half of the year, seeing them decline by 57 percent (from 20.4 billion rubles ($619 million) to 11.7 billion rubles ($355 million) for the same period last year). Sberbank did not post a significant decline in net profits; however, they grew only by 4.8 percent.
The publication suggested that state bankers hold the same view as the minister for economic development, Aleksei Ulyukaev, who announced that there is no recession. "And there won't be one. The very low growth rates are due to institutional, structural and macroeconomic factors. And these are things that will take a very long time to fix," the minister said a few days ago in an interview with Kommersant.
Ulyukaev stated that the ministry will revise the forecast for the upcoming three-year budget and the long-term forecast. "I think, in all of these reports, we will have to estimate future rates of economic growth more conservatively, and take into account the prospects for global growth and our competitiveness," said the minister.
The ministry forecasts that industry growth will slow down to 2 percent from 2.6 percent in 2012; however, by 2014 the Ministry of Economic Development predicts an acceleration in industry up to 3.4 percent.
Nonetheless, the International Monetary Fund has already lowered its forecast of Russia's GDP growth from 3.4 percent (as in 2012) to 2.5 percent. At the beginning of July, Russian Minister of Finance Anton Siluanov stated that Russia was having problems with its budget. For 2013, revenues may be as much as 1 trillion rubles behind budget (1.6 percent of GDP).
The government is preparing to patch the budgetary holes at the expense of medicine and education, while increasing spending on defense, infrastructure and sports projects.
In the meantime, according to the state statistics service, industrial production in the Russian Federation resumed its decline. In July 2013, the rate was 0.7 percent; industry showed zero growth for seven months, as compared to 3.2 percent one year earlier.
First published in Russian in NewsRu.com.
All rights reserved by Rossiyskaya Gazeta.