Aeroflot is set to create the ultimate low-cost airline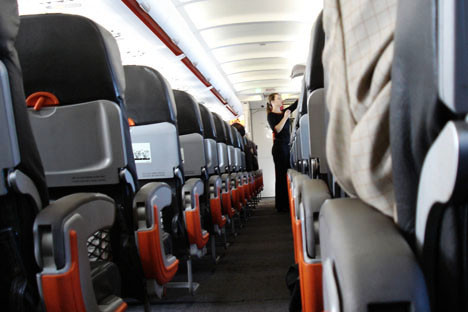 The new flights will not have first or business class and will serve meals and drinks only for an additional fee. Source: Soon / flickr.com
Russia's flagship airline is planning a no-frills offshoot in which ticket price will be inversely proportional to passenger comfort.
Russian national airline Aeroflot has announced plans for its own low-cost carrier to compete in the local budget airline segment. Vitaly Saveliyev, Aeroflot C.E.O., said that the flights on the new carrier won't be comfortable, but they will be cheap.
Rather than creating its budget airline from scratch, Aeroflot is instead buying small local carriers. "In Central Russia low-cost carriers are widely available, we are starting to purchase them," Saveliyev said. "At the moment we have airport slots for eight planes. This will be a rather rigid product, the seats will be just like in any suburban train — you won't be able to sit back, the seats will be right next to each other, there will be new rules regarding luggage weight, it will be possible to purchase tickets only via the Internet, which is really cost-saving. We think that it will be possible to cut a minimum of 20-40 percent off the price."

The new flights will not have first or business class and will serve meals and drinks only for an additional fee. But, said Dmitry Baranov of Finam Management, these are characteristics of low-cost airlines everywhere. And, he noted, the experience will be like what some remember of train travel during the Soviet era.
"As people of a certain age remember, it was perfectly normal to arrive at a railway station all dolled up and to change into sweatpants in the train. After that everybody would take out their boiled chicken, hard boiled eggs, salt, cucumbers, tomatoes and just have a great time getting to their place of destination," Baranov said. "I'm not saying this low-cost airline will be like that, but it is possible that people will bring their own snacks on the plane. This is for sure. The only thing they will ask for on a plane is either tea or coffee."
According to Baranov, these spartan flight conditions won't scare off passengers.
Alexei Sitnitsky, editor-in-chief of Air Transport Review, agrees that people are willing to tolerate a lack of service and comfort for low prices, which can only be achieved by quicker turnaround times.
"It is necessary to understand that in order to reach these low prices, the airplane must fly really often, more often than an ordinary plane. There are many technological aspects with which it is easier to lower prices- they have nothing to do with the service provided during flights," Sinitsky said.
First pubslihed in Russian in Kommersant.
All rights reserved by Rossiyskaya Gazeta.