Bashneft, Magnit join world's leading value creators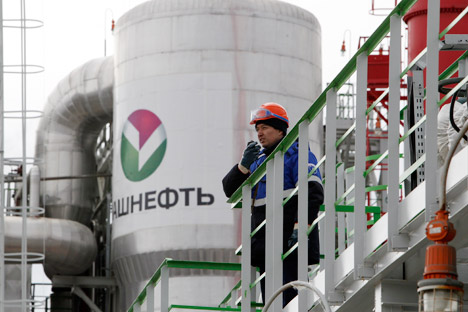 Russian company Bashneft named one of the world's leading value creator. Source: Reuters
Pharmaceuticals, retail, and consumer non-durables topped Boston Consulting Group's five-year average total shareholder return rankings. Russia's Bashneft and Magnit companies were included in the rankings. Meanwhile, companies from emerging markets continue to dominate the top-10 list.
The 2013 Value Creators rankings are based on an analysis of total shareholder return (TSR) — a dynamic ratio that includes price gains and dividend payments — at 1,616 global companies in 25 industry groups between 2008 and 2012.
In addition, TSR performance is broken down into sales growth, ROE change, EBITDA change, and change in net debt. For two industries — banking and insurance — equity growth was used.
Leading value creators and TSR leaders were determined as a result.
In addition to pharmaceuticals, retail, and consumer non-durables, the top 10 industries included chemicals, transportation and logistics, consumer durables and apparel, travel and tourism, media and publishing, automotive OEMs, and health care services.
The top three positions were taken by the American pharmaceutical company Pharmacyclics (TSR 109 percent), followed by its South Korean peer Celltrion (TSR 71.7 percent) and the Brazilian textile manufacturer Companhia Hering (TSR 68.9 percent).
Companies from emerging markets continued to dominate the global top-10, with six companies coming from countries such as Thailand, the Philippines, Russia and Brazil.
The only Russian company in the top-10, Bashneft, ranked ninth, with a TSR of 52.7 percent; it is also number one in the oil top-10. The company is currently preparing for an IPO at the LSE.
At the end of August, Bashneft released unaudited 2Q and 2H 2013 IFRS financials. Half-year net profit (less minority interest) rose 4.6 percent to 25.1 billion rubles ($791 million) from the first half of 2012, on revenue that increased 6.2 percent to 260.48 billion rubles ($8.21 billion). Adjusted EBITDA for Jan.–June 2013 decreased 1.6 percent to 44.1 billion rubles ($1.39 billion).
"Bashneft beat market expectations somewhat, which could bolster the company's stock price in the immediate future. A decision to pay interim dividends would be good news in terms of the share price growth outlook. The Board will consider the payout at its October 31 meeting. The beginning of test production at the Trebs and Titov [oilfields] is a long-term positive driver," Vasily Tanurkov, an analyst at Veles Capital, said.
Another Russian company — the supermarket chain Magnit — reached sixth place in the retail top-10, with a TSR of 31.6 percent.
The company's IFRS profit rose 39.44 percent and revenue increased by 31.42 percent in the first half of 2013.
Deutsche Bank analyst Natalya Smirnova and Infoline Analitika agency CEO Mikhail Burmistrov told Gazeta.ru after the release of Magnit's financials in July 2013 that the retailer could maintain the pace of sales growth at around 30 percent through the end of the year.
Global economic growth continues to be slow, yet global equity markets have been expanding. In 2012, the TSR of the MSCI All Country World Investable Market Index was approximately 16.5 percent. For the first half of 2013, it was 9.8 percent, the report indicated.
First published in Russian in Gazeta.ru.
All rights reserved by Rossiyskaya Gazeta.