Planning for Sochi after the Olympics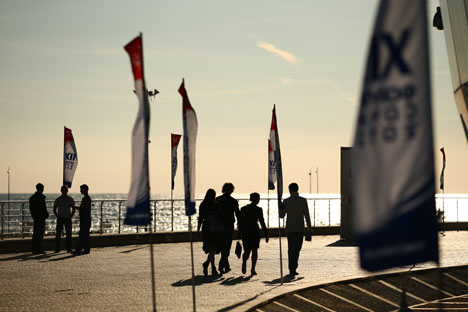 New railways, stadiums, ice rinks have been constructed in record time, to turn this previously quiet resort town into a world-class sporting venue. Source: ITAR-TASS
The Russian government has plunged a record $50 billion into the hope that next year's Winter Games are not only a success but a catalyst for positive change in the country's volatile south. RBTH asked delegates at the Sochi Economic Forum: What happens after the Games?
In stark contrast to the gloomy economic news coming from leading ministers in Prime Minister Dmitry Medvedev's cabinet at this year's Sochi International Economic Forum, the mood of local officials was considerably more upbeat.
This comes as no surprise: The federal government is wrapping up construction for the most expensive Olympic Games in world history, with a price tag of $50 billion.
New railways, highways, stadiums, hotels, ice rinks, residential districts and an airport have been constructed in record time, to turn this previously quiet resort town and home to Stalin's villa into a world-class sporting venue.
"Our economy grew over 15 percent from 2009 to 2012, with construction's share doubling from previous years," said Igor Galas, the regional minister of economic development. To remind visitors of Sochi's tourism potential after the Games, the forum's program this year included Formula One racing, a farmers' market, local wine and brandy tasting and, most notably for some, a Scorpions concert.
"When you bring such big events to a country, they leave a legacy that includes infrastructure, optimism, jobs and, sometimes, even new industries like sports marketing," said Zoran Vucinic, president of Coca-Cola's Russia, Belarus and Ukraine Unit.
"So, I think it's worth it. Above all, it makes people travel. I think there are a lot of misperceptions about Russia, so I think [such] events will lure people here to see the truth—and the truth always wins."
Galas was more direct: "Investors are attracted by accomplishments, not promises. Sochi is now our brand for pulling them in." Russia's international reputation has been damaged recently by everything from the anti-gay propaganda law to human rights abuses in prisons and general corruption.
But the biggest concern has been the volatile situation in the adjacent Caucasus Mountains regions of Ingushetia and Dagestan, which have been plagued by sectarian violence and severe government crackdowns that beget more violence, according to analysts of the region.
"I seldom hear that the upcoming Olympics will take place in the Caucasus—only in matters related to security," said Ramazan Abdulatipov, president of Dagestan.
"What happens after the Olympics is very important for the Caucasus. We are attracting investments: Vnesheconombank and Nafta Moscow have already invested [over $300 million] into glass manufacturing," Abdulatipov said. "Today we presented a joint textile project with Turkish investors to Prime Minister [Dmitry Medvedev] that will create over 5,000 jobs in Dagestan."
"Investments to our region have been increasing at a pace of 100–200 percent annually," said Yunus-bek Yevkurov, head of Ingushetia. "This is a sign of growing stability. Yesterday we signed manufacturing agreements with companies from Israel, South Korea and Italy. We've already surpassed the number of tourists we had in Soviet times and are approaching 100,000 annually. Ingushetia has over 2,000 ancient monuments, including the oldest Orthodox Church in the country—more than any other Russian region."
"Olympic objects are only the tip of the iceberg. We spent colossal sums on housing and other social projects, so that Sochi will have a completely different standard of living after the Games," said Galas.
"Of course, construction's share in the regional economy will drop off, but we'll compensate with an expected increase in the number of tourists from 11 to 12 million next year. Transportation is also becoming important, especially with the construction of the Taman Port [to become Russia's busiest by 2025]."
"If you look at the Games from an accounting perspective, of course they're a loss," Galas said. "But you just can't imagine a country like Russia without flights into space and big sporting events like the Olympics."
All rights reserved by Rossiyskaya Gazeta.