Russian jewelry market wants to compete globally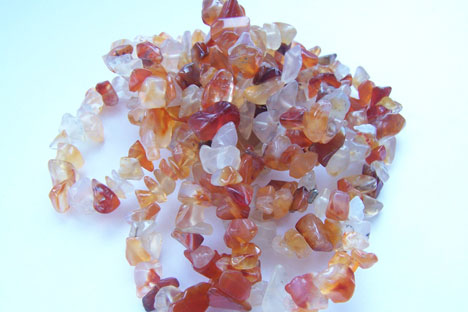 Flun Gumerov, president of the Almaz Holding jewelry company, notes that the goal of stepping out onto the international market is worthwhile, but it still is not clear how it will be achieved (Pictured: Cornelian gems). Source: ITAR-TASS
In mid-September, Moscow hosted the International Jewelry Economic Forum organized by the Russian Jewelers Guild and the Chamber of Commerce and Industry.
Experts and manufacturers grappled with the challenges of making Russian jewelry production competitive on the international level and lowering the bureaucratic barriers that block the industry's development. Experts are confident that jewelry exports could be quadrupled or quintupled in just six months.
In the lobby of the Chamber of Commerce and Industry, display windows showcase the best specimens of contemporary master jewelers. The centerpiece of the composition is a silver model of an Orthodox church made in the technique of filigree, which is a delicate design formed from thin wire. Foreign visitors ecstatically photograph it with their mobile phones. Incidentally, the main goal of the Moscow gathering was not to display products, but rather to understand how to make them competitive and increase interest in them around the world.
Elena Panina, a deputy in the State Duma, says that domestic competition on the jewelry market has appeared in Russia, but this market continues to lose out to the foreign one; legal complications are to blame for this. According to Alexander Rybakov, the vice president of the Russian Chamber of Commerce and Industry, the ratio of foreign to domestic producers on the market is 25 percent to 75 percent—still in favor of domestic jewelers. "A total of five percent of domestic goods is exported," he says.
The chairman of the Russian Jewelers Guild, Gagik Gevorkyan, believes that this figure could potentially be increased fourfold or fivefold. According to him, 226 tons of gold are acquired annually in Russia, and, of that amount, only 50 tons are used in the jewelry industry. He also notes that the import figure is seven times higher than the export figure. "Our items can't compete with the inexpensive imports," says Gevorkyan. To promote Russian products, the expert insists that it is crucial to deal with Russian brands.
There are already successful examples in this area. Artist and jeweler Ilgiz Fazulzyanov, the head of a workshop that produces jewelry under the brand name Ilgiz F., has recently won several prestigious awards in the area of fine jewelry. The French and Swiss call him the "king of enamel," and his work is sold by Christie's auction house. Fazulzyanov says that foreigners are more eager to purchase his pieces than Russians are.
"My work is opening borders for me. My creations themselves speak for me and, of course, I'm very lucky," the jeweler says. "Last year, we were in America, in Japan—people there took a great interest. This year, we started to work with Switzerland. I have a personal exhibition opening on Oct. 1 in Geneva. There is already a project with London, and we're planning to work with Singapore. In any case, we're sought after where money accumulates, where there are collectors and people who value art."
Fazulzyanov admits that his work is interesting to sophisticated audiences—when people see things being created with unfamiliar techniques, or when it is something unusual. "The techniques we use are no longer used anywhere," says the jeweler. "Collectors are choosing more complex articles. If they plan to wear the jewelry, the jewelry is simpler. But a piece that seems the simplest at first glance can be made into a work of art. Every element and little flourish on our products has a meaning and explanation for why it's there."
Nevertheless, Ilgiz is still an exception to the rule. Flun Gumerov, president of the Almaz Holding jewelry company, notes that the goal of stepping out onto the international market is worthwhile, but it still is not clear how it will be achieved. According to him, there are other problems in addition to the fact that imports outnumber exports. For example, Russian jewelers hardly export their products even to CIS countries—that is, to its closest neighbors. "But then, due to the bureaucratic challenges for entrepreneurs within the country, production is leaving Russia," says Gumerov.
The expert points out that, not long ago, a top factory whose products were winning international exhibitions was transferred to Thailand by the owners—an error by government officials was the final straw that forced them to make this decision. "They gave their products to the Assay Chamber, which was supposed to apply a quality stamp, but the authorities put the marks on the outside of the items, not the inside, and that ruined them," says Gumerov. He believes that, if desired, it is possible to change the entire field in six months, as long as there is political will.
All rights reserved by Rossiyskaya Gazeta.