No hope for Russia's hi-tech sector?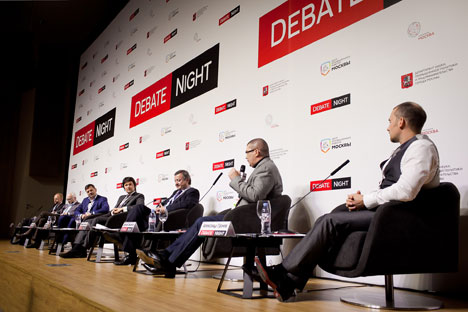 Will Russia become one of the leaders in high-tech production? Source: Press Photo
Most Russians do not believe in Russia's future as a leading hi-tech exporter, a Debate Night this week at Moscow's Technopolis revealed.
The fact that Russia currently accounts for 26 percent of the world's high-tech exports was no deterrent to this week's Debate Night at Moscow's Technopolis — the Russian capital's car-factory-turned-hi-tech-production-hub.
Businesspeople, officials and economists spent the evening debating the country's potential to become a global leader in high-tech production, on the floor where legendary Soviet Moskvitch cars were being churned out less than a generation ago.
The optimists noted that, in many ways, Russia already qualifies as a high-tech power.
"Moscow's already climbed the ranks of the world's most innovative cities from 192nd place to 74th, while the size of Russia's venture market has doubled in the last two years to become the 4th largest in Europe, according to Dow Jones," said Alexei Komissarov, the Head of Moscow's Department for Industrial Policy and Entrepreneurship.
"We already win tenders for nuclear power plants like Temelin in the Czech Republic against world leaders and sometimes up to 3,000 competitors," said Sergei Arkhipov, president of the Harvard Club of Russia and chief innovation officer of OMZ, a major industrial conglomerate.
"Look at how much controversy the recent science reform law caused," said Leonid Melamed, CEO of Komposit. "That shows it's in high regard. Higher education is both prestigious and practically universal."
Still, Russia's share of publications in prestigious international scientific journals has gradually slipped from 3.2 percent to 2 percent since 2000, while it takes 15th place overall for the number of publications in leading scientific journals.
Meanwhile, "The Soviet school system has been ruined, there are practically no small businesses to speak of and no tradition of small businesses attached to universities like in the U.S.," said Dmitry Grishankov, CEO of the prestigious Moscow-based Expert RA business rating agency. "While our university graduates are in high demand worldwide, they're leaving for the West."
Arkhipov was quick to counter: "As president of the Harvard Club, I can say that, 20 years ago, you could count the number of Harvard graduates in Russia on the fingers of one hand. Now there are over 200 of us. The trend [of talent returning] is obvious."
"I hosted 12 hi-tech experts from all over the world last year and not a single one could name any Russian hi-tech brands," said Grishankov in response.
"There are many Russian hi-tech companies," argued Komissarov. "I'm talking about Yandex, ABBYY and, in fact, Sergei Belousov, founder of Parallels, now spends most of his time in Russia rather than California because he sees more opportunities here."
Moscow-based Yandex, the world's fourth largest search engine, had a successful NASDAQ IPO two years ago and has since challenged Google beyond Russia's borders, in countries like Turkey. ABBYY has grown into an international software company specializing in character recognition and language software, while Parallels works on computer automation with nearly a thousand employees worldwide.
"Boeing's largest engineering center in Europe is here in Moscow and employs 1,200 people," said Komissarov. "The U.S. Senate even had hearings on how much the company was becoming dependent on Russian brains."

Alexander Grachev, general director of the SPT Group that offers software services, emphasized the bottom line: "Eighty-three percent of our exports are raw materials or products with little added value. Otherwise, there's a little agriculture and some hi-tech sectors still functioning since Soviet times."
Ultimately, the audience sided with the pessimists. An SMS vote found 74 percent of the several hundred attendees seeing no hope in Russia becoming a leader in hi-tech exports anytime soon.
"It's good Russia has such pessimists," panel moderator Alexei Ivanov, director of the Legal Policy and Social Development Department of the Skolkovo Foundation, said jokingly. Skolkovo has been tasked with weaning Russia off its raw materials dependence and making it a global leader in technology.
All rights reserved by Rossiyskaya Gazeta.