Foreign investors opening up to southern Russia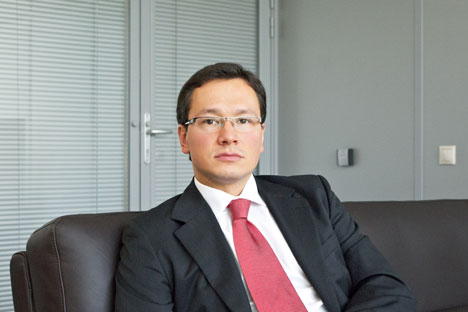 Anton Pak: "We must use the Olympics to our advantage, so that the effects are significant and long-lasting." Source: Press Photo
The North Caucasus Development Corporation was created in 2010 to attract over $2 billion in private investment to Russia's volatile southern regions and to create 35,000 jobs. Halfway through this mandate, RBTH asked CEO Anton Pak about what has been accomplished.
Russia Beyond the Headlines: The North Caucasus Development Corporation has existed for several years. What are your achievements?
Anton Pak: We're currently overseeing seven projects in manufacturing, tourism and agriculture, with a total investment of over $200 million. As they near completion, over 5,000 jobs will be directly created, with another 10,000–12,000 in related industries and small and medium businesses.
RBTH: Are foreign investors involved in these projects?
A.P.: Yes. One example is the industrial National Aerosol Cluster in the Stavropol region, where we launched production of components for aerosol packaging, together with the Greek company Aluman.
Previously, we had imported these components from Greece, but our corporation was able to convince them that transferring the technology here would be mutually beneficial and safe.
Another is a crop production facility in the same region, which we launched in December 2012, together with VTB Capital [one of Russia's largest investment banks – RBTH].
A few weeks ago, we closed a deal with a major investment fund from Hong Kong — ADM Capital, whose contribution to this project totals $30 million. This is historic because it's the first time international institutional investors have put money into agriculture in the North Caucasus.
RBTH: Have the upcoming Sochi Olympics affected your work?
A.P.: Yes, many people have learned about the North Caucasus region and its potential through the Olympics. At the Games, our corporation will have a special exhibition to demonstrate the investment and tourism potential of the area. We must use the Olympics to our advantage, so that the effects are significant and long-lasting.
RBTH: Do you believe in transitioning the local economy to value-added products and services?
A.P.: Yes. The main resources of the North Caucasus are not oil, gas, or metals — even though they can be found here—but the natural climatic conditions that allow for the efficient development of the agriculture, services, and hospitality and tourism sectors of the economy. Our main task is to create the conditions for harnessing this potential.
RBTH: Do you have trouble convincing entrepreneurs that it's safe to invest in the North Caucasus?
A.P.: There is a problem with stereotypes. We try very hard to convince investors that most of the North Caucasus is calm, a good place to do business and no different from the rest of Russia; only a few regions have still not returned to normal [in terms of security – RBTH].
For example, a week ago, we helped hold the WOMAD international music festival in Pyatigorsk, which over 10,000 people attended. Visitors were impressed by the natural beauty, rich culture and traditions of the region. They saw that most of the problems they associated with the North Caucasus were far-fetched or outdated.
All rights reserved by Rossiyskaya Gazeta.