Walt Disney moves into Russian retail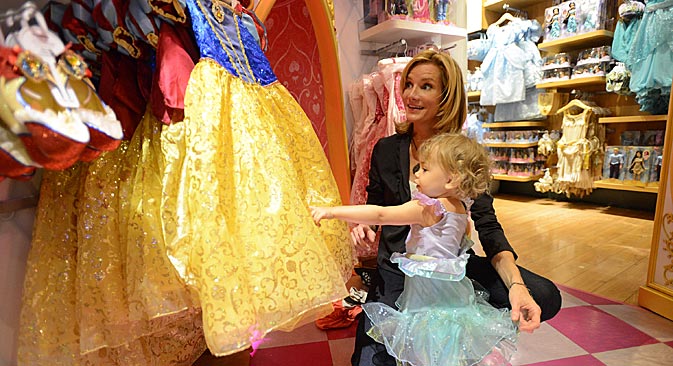 Walt Disney currently manages 216 Disney Stores in North America, 106 in Europe and 47 in Japan. Source: AP
Disney plans to open stores of its flagship brand in Russia while exploring the possibility of smaller branded outlets negotiated through a local subsidiary.
Walt Disney has set its sights on Russian retail. According to reports, the entertainment giant is planning to open two Disney Stores in Moscow and one in St. Petersburg as early as next year.
In addition, the company is seeking partners to launch two new chains – Disney Play and Disney Style, which will specialize in toys and clothing, respectively. Walt Disney earns 8 percent of its global revenue from retail, a total of nearly $2.6 billion.
In Moscow, Walt Disney is exploring facilities at the Mega malls in the southern part of the city at Teply Stan and Belaya Dacha, and in St. Petersburg at Galeria on Ligovsky Prospekt, outside the city center. According to calculations by DNA Realty, the maximum yearly rental cost of these three locations could total $2.7 billion.
Elena Yamschikova, a representative of Walt Disney in Russia, declined to comment, although another source from the company confirmed the reports.
Walt Disney currently manages 216 Disney Stores in North America, 106 in Europe and 47 in Japan.
Walt Disney Co. ranks among the largest media businesses in the world. Its assets include Walt Disney Studios; television channels ABC, Disney Channel and ESPN; theme parks; along with publishing and music divisions. Its total capitalization is $123 billion.
The company opened a Russian office in 2006, mainly to work on entertainment projects. Disney is a co-owner of the Russian film distributor Walt Disney Studios Sony Pictures Releasing, which is currently responsible for distribution of Stalingrad – Russia's submission for the best foreign film Oscar. Disney also co-owns the Russian version of the Disney television channel, which handles its own film and television production. Last year, the revenues of the Russian subsidiary under Russian reporting standards totaled more than $83 million, according to data compiled by SPARK-Interfax. According to SPARK-Interfax, licensing of consumer goods makes up one-third of Walt Disney's revenues in Russia.
Disney has other plans for Russia besides its traditional retail stores. Sources in the company say that the company's Russian office is conducting a tender among non-grocery retailers to develop two chains.
One of these – Disney Play – will specialize in toys, the other – Disney Style – in clothing featuring popular cartoon characters. Plans call for each chain to have 100 stores of between 1,000-1,500 square feet each.
For this project, the Russian partner will negotiate independently with Disney suppliers and pay the company royalties for use of the brand. The timeframe for this project is not known. DNA Realty estimates that the cost of opening the 100 stores could total $37.5-60 million.
Evgeny Guscha, development director at DNA Realty, said that finding appropriate space will be the biggest challenge for the new stores. "There's a shortfall of quality space on the market; retailers are already curtailing their plans or exploring not the most successful retail centers," Guscha said. Darya Yadernaya of Esper Group agreed that the high cost of rental space could require Disney to charge more for its goods, making them less accessible to local consumers.
However, the market potential may be too tempting to pass up.
According to data compiled by Russia's Ministry of Industry and Trade, the Russian market for children's goods in 2012 topped $21.3 billion. Games and toys accounted for $3.9 billion. The largest retail operators on this market are the Russian chains Detsky Mir, Deti, Korablik, Begemot and Dochki-synochki, although their combined share is less than 20 percent of the market, leaving plenty of room for competitors.
Leading foreign operators in clothing and children's retail with a robust representation in Russia include Spanish chain Imaginarium and Hanley's from the UK (specializing in toys) and British firms Mamas & Papas and Mothercare (goods for newborns and mothers).
First published in Russian in Kommersant.
All rights reserved by Rossiyskaya Gazeta.