Arctic resources: Any competitors in sight for Russia?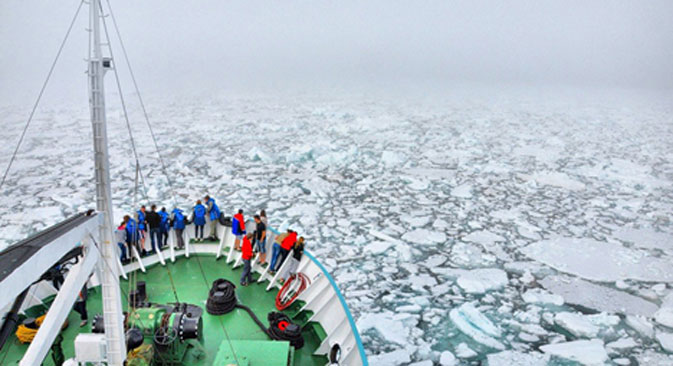 Russia is currently the only country seriously intent on exploring the Arctic hydrocarbon reserves. Source: arkhangelsk.rgo.ru
Many countries would like to tap into the Arctic's vast hydrocarbon resources, but Russia is the only nation so far to have risked hefty investments in the region. Experts wonder whether Moscow will be successful in selling Arctic oil at $200 or more per barrel.
According to the United States Geological Survey, the international portion of the Arctic Ocean may contain 90 billion barrels of oil, 1,669 trillion cubic meters of gas and 44 billion barrels of gas condensate.
This translates to 13 percent of the estimated global undiscovered reserves of oil, and 30 percent for gas. The Russian Geographical Society claims that most of these resources belong to Russia.
"The areas [Russia] already controls and those to which it claims rights contain more than 250 million barrels of crude and gas in oil equivalent terms, or 60.1 percent of all the Arctic reserves," states a report by the society. The value of these resources will be hard to estimate until they have been proven and termed as reserves.
Expensive oil
However, developing Arctic oil fields turns out to be so expensive that experts polled by RBTH doubt the expedience of such an undertaking. According to the International Energy Agency's 2006 estimate, oil and gas production in the Arctic will only be worthwhile if the cost of extracting one barrel drops below $60.
At present the figure is three to five times higher than that. "The cost of developing Arctic oil stands at $200 to $300 per barrel," says Alexey Knizhnikov, WWF Russia's oil and gas environmental policy officer, who estimates the cost of building an Arctic oil rig at $5-6 billion.
The harsh Arctic environment calls for special technologies and requires additional expenses. "Extracting oil and gas out at sea, 650 to 750 kilometres from the coast and in 200-300 metres of water, involves a lot of challenges. You cannot expect a repair team to arrive urgently, and you cannot lay a pipeline along the seabed," says Mikhail Krutikhin, partner and analyst at RusEnergy consultancy.
Russia sees no rivals
No wonder, then, that foreign companies are not queuing up to join the Arctic oil rush. "There is simply no competition for Russia in the Arctic at this point in time," says WWF's Knizhnikov.
Shell was forced to put its drilling plans on hold earlier this year, after the US Department of the Interior found irregularities related to the company's safety and operational management systems.
BP and Rosneft have discontinued the Sakhalin-4 project after learning, five years on, that the shelf oil field contains much less hydrocarbon resources than originally believed. Cairn Energy tried its luck in 2011 by investing $1 billion in geological survey operations off the coast of Greenland, only to find no oil there.
Those foreign companies still intent on venturing into the Arctic prefer to do so in conjunction with Russian concerns. China's CNPC, for one, is planning to participate in the Yamal LNG project of Russia's Novatek, while Total of France is set to increase its stake in Novatek.
Political economy
Russia is currently the only country seriously intent on exploring the Arctic hydrocarbon reserves. Steps are already being taken in this respect: the Russian government in 2012 discussed a programme to develop the country's continental shelf through to 2030.
In February 2013, President Vladimir Putin signed a strategy to develop Russia's Arctic areas and ensure national security through to 2020. Prime Minister Dmitry Medvedev expects the country to be producing an annual 66.2 million tons of Arctic oil and 230 billion cubic meters of gas by 2030.
In 2011, Russian companies produced 11 million tons of crude and 57 billion cubic metres of gas from the Arctic.
Russia is building up its military presence in the region to demonstrate the seriousness of its Arctic ambitions. Arctic motorised infantry brigades have been formed, air defences deployed on Novaya Zemlya, and bomber airfields built.
Just to make sure the West takes note of these measures, the heavy nuclear-powered cruiser Peter the Great became in August 2013 the first warship ever to navigate the Northern Sea Route without icebreaker support.
The West did take note but did not react. Experts believe that, even though both Norway and the US are eager to tap into the Arctic's hydrocarbon reserves, they would rather let Russia take the first step: it is for Moscow, on its own territory and using its own resources, to find out how much it will cost to produce Arctic oil and gas.
All rights reserved by Rossiyskaya Gazeta.