Russia concludes green nuclear forum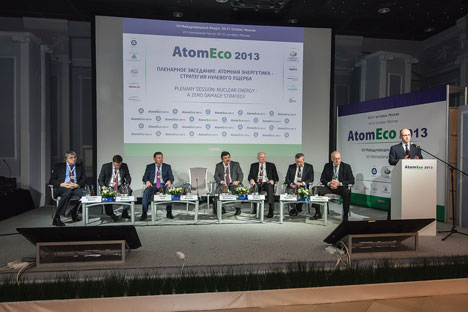 Experts from 18 countries took part in the 7th Annual 2013 AtomEco Forum. Source: Press Photo
Major nuclear forum wraps up in Moscow with green technologies taking center stage.
Nearly 300 entrepreneurs and experts from 18 countries wrapped up participation in for the 7th Annual 2013 AtomEco Forum on October 30-31.
Key speakers included the OECD's Agency for Nuclear Power, the Swedish Association for Radiation Security, American corporation Bechtel and Britain's AMEC. In total, 31 companies sent representatives to the event.
"Despite its steady development, technological progress and enhanced safety level, further strengthening of the nuclear energy industry's position is inseparably linked to its ecological and social adoptability," said Sergey Donskoy, Russian Minister of Natural Resources and Ecology.
"Today [that] depends in large part on creating conditions for reducing the volume of radioactive waste generation, developing technologies for its safe disposal, establishing effective reprocessing of used nuclear fuel and repeated use of the resulting products, developing technologies for decommissioning terminated facilities, rehabilitating radioactively polluted territories and resolving nuclear legacy problems."
Attendees discussed key principles of environmental protection and radioactive safety policies, shared expertise in developing organizational, economic and financial models of radioactive waste treatment systems and optimizing transport technology schemes in creating underground radioactive waste isolation sites.
The also touched upon conducting independent international environmental examinations and interacting with the public.
All rights reserved by Rossiyskaya Gazeta.