New outsourcing center to develop cost-saving schemes for Russian ministries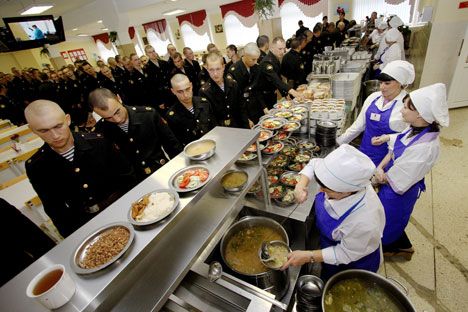 In Russia, the idea of outsourcing was the part of the army reform. Source: RIA Novosti
Russia's first outsourcing center will help government ministries cut budget spending and raise the quality of services, while bringing a potential $7.8 billion in investments to small businesses.
A top business institute in Moscow is hoping to mimic the success of a pioneer outsourcing experiment in Perm by launching a national outsourcing research center to study best practices and develop recommendations to government agencies for future projects.
The Russian Presidential Academy of National Economy and Public Administration (RANEPA) announced it would open the Outsourcing Center on its campus as the first center of its kind to look into cost-saving outsourcing schemes to relieve government agencies of functions unrelated to their specialization, such as transportation, catering, and cleaning.
The center will examine schemes to outsource these functions to commercial providers to cut budget spending and raise the quality of services. In exchange, small businesses involved in the scheme could benefit with 250 billion rubles ($7.8 billion) in investments, center representatives predicted.
Vladimir Nazarov, deputy director of RANEPA's Institute of Social Analysis and Forecasting, developed the center's idea after studying Russia's first major outsourcing project, which was Yevgeny Fridman in Perm Territory.
Fridman started New Ambulance in 2007, offering transportation services to government-run emergency rooms. New Ambulance currently operates in Perm, Ufa, and Kirov, and Fridman said he is planning to begin operating in 16 more cities soon.
Nazarov invited Fridman to replicate his success story elsewhere across the country. This was how the Outsourcing Center was conceived, and Fridman will most likely become its head. The institute has not announced when the center would formally open.
"Each region has its own peculiarities," Nazarov said. "You have to take this into account and prepare detailed tender documentation, including unambiguous penalty sanctions and guarantees. [Fridman's] Perm business spent a long time rewriting their documentation before they felt it was just right. In each of their separate service they went the long way of trial and error."
The newly founded center is intended to help other Russian regions avoid these mistakes, Nazarov said.
The Outsourcing Center will study best national and international practices in outsourcing and use them as the foundation for recommendations to government agencies. The center is expected to eventually start helping entire regions transition to outsourcing schemes.
"Our main goal is to persuade the government to allow market competition into the sector dominated by municipal and federal companies," Fridman said. "A detailed methodology will help reduce risks and make the outsourcing scheme transparent both to the government and to business."
Fridman said the center will also offer consultancy services to businesses for a fee, and may eventually start working with banking institutions, which are eager to finance any emerging franchise products.
"We expect to break even at some point, making money from consultancy services provided to businesses and a variety of research grants," says Fridman.
He believes the center could help generate as many as 3 million new jobs across Russia, and will channel as much as 250 billion rubles in investment into the country's small- and medium-sized business sector.
"Increasingly more entrepreneurs are becoming available as small-sized retail businesses continue to fold all over Russia, and we have to offer them alternative business opportunities," he added.
Similar centers are active elsewhere in the world, including in the United States, Great Britain, France and Germany, Nazarov said. These countries' governments began outsourcing to private businesses in the 1970s as part of the respective national governance reforms.
Igor Nikolayev, director of FBK Institute of Strategic Analysis, welcomed RANEPA's Outsourcing Center idea, saying outsourcing facilitates competition, which in turn drives prices down and stimulates an increase in the quality of services.
"What's important, though, is that the government must not outsource its direct functions to private businesses," Nikolayev warned.
First published in Russian in RBC Daily.
All rights reserved by Rossiyskaya Gazeta.