USA bobsledding team to advertise Russian vodka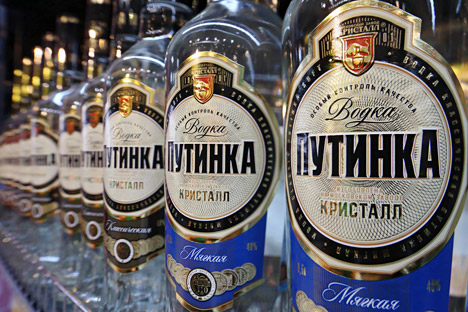 Putinka vodka will place its logo on the bobsled of the U.S. team. Source: Igor Zarembo / RIA Novosti
Having lost several possibilities of advertising their products in Russia because of a new law, vodka manufacturers have been looking for nontraditional ways of promoting their brands.
Russian alcohol manufacturers are desperately trying to find creative ways to advertise their brands after a new law banned advertising alcohol anywhere other than at the point of sales, such as in stores, restaurants and bars.
Putinka vodka found a unique option: Its logo will appear on one of the bobsleds of the United State's women team during the Sochi Olympic Games practice runs.
The advertizing strategy is similar to one of the most popular ways of advertising vodka and beer: by placing the logos on football stadiums abroad during warm-up matches and qualifiers of the Russian national football team, are always broadcasted on Russian TV channels.
Stanislav Kaufman said his ad agency, which created the Putinka campaign, wanted to take this idea one step further.
"We didn't even think about placing our commercials and advertisements during football matches. This isn't even a real commercial, it's a mass grave of brands," Kaufman said. His agency has been hired to promote Putinka brand vodka. "We wanted to make our brand's advertisement bright and unique – that's why we decided to chose a bobsled."
The idea has received some negative feedback however, including Ekaterina Anohina, the PR-Director of the Russian Federation of Bobsleigh and Skeleton.
"In my opinion, sport and alcohol are two incompatible things," she said. " As for us, our position is that we do not cooperate with any alcohol brands – neither beer, nor vodka. Theoretically this is possible, because we do not place the commercials and advertisements in the Russian Federation – we do that abroad, where such activity is legal. So we could actually cooperate with such brands, but we chose not to."
During the 2013/14 season, the two-bob U.S. team – Jamie Greubel and Emily Azevedo- will have the sign Putinka placed on their bobsleigh and on their uniforms.
"The Russian company approached us with a sponsorship proposal, and we have decided to accept this proposal because the American government does not allocate enough money to Olympic sports – this is why we are ready to cooperate with any enterprise," said Lenny Kasten, the team's manager. According to him, nobody is surprised, that, for example, Russian Aeroflot sponsors the soccer team Manchester United.
"If one of the contract's provisions will abide us to drink a vodka shot – we definitely will," Kasten added.
The first bobsleigh with the Russian vodka brand logotype will be brought to Sochi in November for the first international training session. As for the Olympics, the team will have to use another bobsleigh. According to the rules of the Olympic Games, only the advertisements of official Game partners can be demonstrated at the Game's venues.
This is not the first time that Russian vodka manufacturers have signed contracts with bobsleigh teams. Since 2010 the official partner of the International Bobsleigh and Skeleton Federation (FIBT) has been the Winter Road vodka of the Kristall-Lefortovo company. The partnership is very profitable, according to the company's CEO Victor Alekseev.
"Thanks to the achievements of our national team, bobsleigh's popularity is constantly growing – this is mainly why we are very happy with our partnership with FIBT," Alekseev said. "Taking into account the restrictions of alcohol advertising in our country, this kind of cooperation is very profitable for us, so now we are thinking of signing contracts with a few other sport organizations."
According to TNS, bobsleigh translations are amongst the five most popular winter sports watched on television by Russians. The 2012/13 Bobsleigh World Cup was watched by 2.8 percent of viewers older than 18 years. These numbers are not as high as the hockey or biathlon rating, but exceed both the mountain skiing and figure skating rating.
Based on materials from RBC-Daily and Kommersant FM.
All rights reserved by Rossiyskaya Gazeta.