Russian brands find it tough to compete in global value survey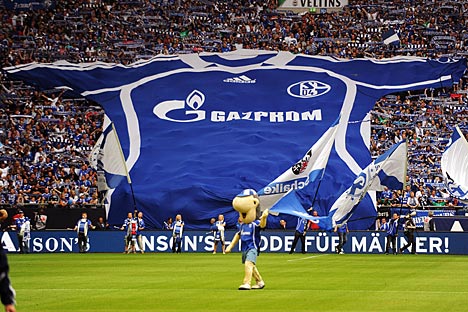 The value of Russian brands is significantly less than those produced in developed countries. Source: Imago / Legion Media
The most expensive Russian brands are conceding significantly in value to brands from developed countries. Experts believe this is because of a lack of investment into brand marketing.
Brand consultants Interbrand recently presented ratings for the top 40 most expensive brands of 2013. Gazprom was at the top of the list with a brand value put at 1.26 billion rubles ($42 million).
MTS, Beeline and Megafon, Russia's largest mobile operator ranks second, third and fourth place, coming in at 192 million rubles ($6.4 million), 155 million rubles ($5.17 million), and 114 million rubles ($3.8million), respectively.
The Interbrand ratings leader is a multi-utility company, which does not belong to any particular sector and its brand is valued at 48 percent, which is almost half the value of all the other brands. The largest share of the total brand value in this rating rests with telecommunication brands at 19 percent, followed by petroleum at 11 percent, metallurgical at 7 percent, and finance at 5 percent.
"The rating for the most expensive Russian brands of 2013 differs significantly from that of previous years," said Interbrand consultant Anna Shelyubskaya."Many brands that previously did not meet our criteria for inclusion have been included in this rating for the first time."
Shelyubskaya said that in drawing up previous ratings, Interbrand had relied on criteria, which were based on the global rating. According to these criteria brands that were not aimed at a mass audience, and which did not have a high public profile and were not well known, would not be included in the rating.
"It became clear to us, however, that Russia could not be properly represented without her industrial brands," Shelyubskaya said. For this reason many business-to-business companies, or B2B, found their way into this year's rating.
According to those who compiled the rating, B2B companies play a very important role in stimulating the Russian economy. The fact that the Russian top-list differs from the global rating in the absence of fast-moving-consumer-goods (FMCG) brands is also noteworthy.
Anna Lukanina, the acting director of brand consultants Depot WPF, said Russian manufacturers are not yet able to compete in terms of daily demand with multinational giants, which even in Russia are market leaders.
The value of Russian brands is significantly less than those produced in developed countries. By way of a comparison, Apple, the global leader is worth $98.3 billion, which is more than 2,000 times the value of Gazprom. All 40 Russian brands put together are valued at 2.6 billion rubles ($86.7 billion), which is only 0.004 percent of Russia's gross domestic product.
Shelyubskaya noted that the main reason why the value of Russian brands is comparatively low is because the Russian economy is largely dependent on the industrial sectors, in which the brand does not play the decisive role in consumer decision-making (in the petrochemical and metallurgical sectors, for example).
In metallurgical concerns, the brand value does not exceed 10 percent as a share of the overall value.
"Apart from that, many companies do not have a great deal of experience in working in competitive market conditions: they are either monopolists or they are owned by the state. The role of the brand is diminished in that environment," Shelyubskaya said.
Moreover, according to Lukanina, the attitude toward brands in Russia is different to that encountered in the west. Russian companies are not inclined to finance a brand as actively as European or American firms are.
"The majority of Russian companies are only looking one step ahead, and they are often after a quick sale. Western corporations however are concerned with long-term strategic planning," she said. In Lukanina's opinion, Russian companies must increase investment in their brands, and need to be more active in conducting business overseas.
All rights reserved by Rossiyskaya Gazeta.