Mechel collapse pushes MICEX down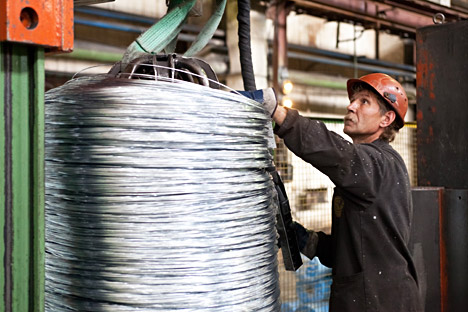 Mechel's financial position has been unsteady since July 1. The company is due to pay $965 million this year to creditors, and $2.48 billion in 2014. Source: ITAR-TASS
Russia's stock exchange regulator will scrutinize the rapid sell off the giant metals and mining company, which pushed the Moscow's stock exchange index down 2.2 percent.
Russia's Central Bank will audit the transaction involving the shares of mining and metals giant JSC Mechel, which mysteriously collapsed by 41 percent during auctions on Nov. 13.

The company's shares on the New York Stock Exchange lost 19.9 percent on the same day.
Reduced rates on the Moscow Stock Exchange continued from the start of trading, but after 17:00 Moscow time it accelerated sharply. By 18:09 shares had fallen by 47 percent to 50.7 rubles. The Micex index fell to 1,466.82, the lowest in three months.
According to the auction's final figures, the company's price fell to 28.3 billion rubles ($ 861.8 million) – a historic low.
"The actions carried out by a number of trading participants with shares of JSC "Mechel" on the open market starting from 5 pm on November 13, 2013 have been subjected to intense scrutiny by the service," a representative financial markets section of the Bank of Russia said. "The service conducts the analysis of transactions made during this period on and off the stock exchange. It is also going to request the necessary information from the company."
The company's financial position has been unsteady since July 1, when it began talks to renegotiate some of its $9.6 billion in debt. The company is due to pay $965 million this year to creditors, and $2.48 billion in 2014.
According to Oleg Popov, the portfolio manager of Allianz Investments, the market suffeered a wave of panic selling, as investors worried about Mechel's talks with major lenders, he told "Kommersant" newspaper.
Mechel's owner, Igor Zyuzin, who owns 67.42 percent of the company's shares, lost about 50 percent in the sell off.
Mechel's representatives emphasized that the negotiations with the banks are going well and will be completed by the end of November. "The depreciation of the shares is purely speculative in nature," they said.
The Vedomosti newspaper, citing a source in Mechel's lending bank, reported that it was the sale of several large packages. It is not clear who sold the shares. In total, owners of shares changed 2 percent of Mechel's ordinary shares; approximately $50 million worth of transactions were made.
Mechel's share drop on the Moscow Stock Exchange was a record high for the company. The last time there was a sharp drop was in July 2008, when President Vladimir Putin accused Mechel of offshore scheming and selling coal at inflated prices in the domestic market.
Based on materials from Kommersant, RBC-Daily, Vedomosti.ru.
All rights reserved by Rossiyskaya Gazeta.