Moscow's premium real estate prices third highest in Europe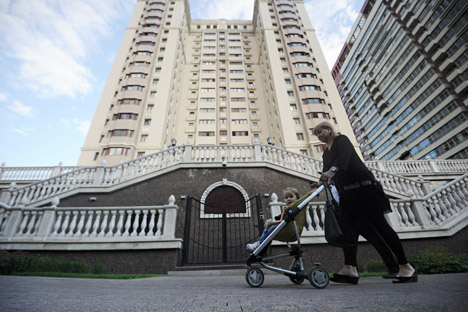 Moscow's Deputy Mayor for Urban Development and Construction: "The idea of affordable housing does not work in Moscow." Source: ITAR-TASS
Premium real estate prices in Moscow topped $23,000 for 11 square feet in September of this year.
A slight increase in prices for Moscow's elite real estate market has real estate companies optimistic about the future of premium properties.
Moscow's most expensive real estate was prices at $23,000 for 11 square feet in September, a 1 percent uptick from the same month in 2012. According to the Knight Frank, Russia now ranks third in European cities prices for premium class real estate.
While the increase in Moscow's upmarket real estate prices is slight, "it's the first time in approximately 12 months that this has happened, and the prognosis is that in the near future, this trend will continue in Moscow," said Elena Yurgeneva, the head of Knight Frank's department of elite real estate.
While Moscow's premium real estate maybe be one of the world's most expensive, it's small price increases ranks fourth when compared with other European cities' increases, which were included in the rating. The first three cities with the highest rate of increase during the same period were London, whose increase was 7 percent, St. Petersburg with an increase of 6.6 percent, and finally Monaco, with an increase of 3.2 percent.
But the actual leaders of real estate rate increases are the megacities of the Asian-Pacific Region and of the Middle East, where premium-class sites have taken a jump at around 17 percent.
Click to enlarge the infographics. Drawing by Natalia Mikhaylenko
Earlier government officials have debated whether it is worth developing the construction of affordable housing in Moscow. In the beginning of October 2013 Marat Khusnullin, Moscow's Deputy Mayor for Urban Development and Construction, has stated that this is impermissible.
"Unfortunately, the idea of affordable housing does not work in Moscow. The construction of such housing cannot be allowed if we take strategic planning into account. Even if we wanted to carry this idea into effect, it wouldn't have been physically possible," he has said.
The deputy mayor said that in his opinion, the construction of affordable housing would be economically unprofitable for Muscovites. "The price of such real estate should be $2,000 to $3,000 for 11 square feet. I think that 12 million Muscovites are not ready to have their property value drop, to lose their capitalizations," he has said, adding that the cost of real estate acts like a real constraining factor of Moscow's growth and the inrush of migrants.
"Moscow's infrastructure cannot hold such a large number of people," Khusnullin emphasized.
Mikhail Prokhorov, the Russian billionaire and the leader of the Civil Platform political party, said he thinks Khusnullin's conclusions are completely wrong.
"This is why real estate in Moscow has become so inaccessible for the younger generation of Muscovites," he said. "This is one of the factors which puts the brakes on Moscow's economy and on the development of the real estate market. The high prices for real estate in Russia's capital are not the characteristics of a healthy economy, in spite of what Khusnullin says."
Based on materials from Kommersant and RBC Daily.
All rights reserved by Rossiyskaya Gazeta.