Kudrin: Russia urgently needs to change its economic policies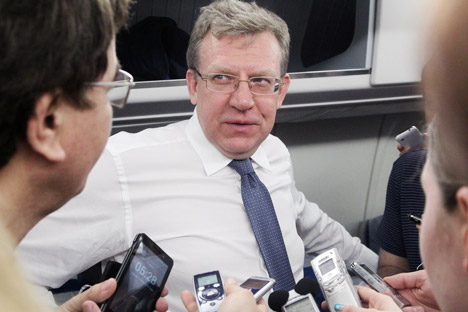 Alexei Kudrin, Russia's finance minister from 2000 to 2011. Source: Konstantin Zavrazhin/RG
Russia's former finance minister says it's time for the Russian government to "get its act together."
For Russia's current model of economic growth to work, oil prices need to grow by $20 to $30 annually, according to former Finance Minister Alexei Kudrin. But no changes can be expected until the Russian government gets its act together, Kudrin said.
Alexei Kudrin, Russia's finance minister from 2000 to 2011, said the current problems of Russia's economy are a result of an economic model heavily dependent on oil revenues.
In an interview with the Moskovskij Komsomolets daily, Kudrin said he believed there are a host of other problems exacerbating the budget's excessive reliance on oil revenues.
"The economic growth we witnessed in the 2000s was also based on a growth in demand for commodities on Russia's domestic market, which was only partially driven by a boost in oil production. The main reason behind it was the growing oil prices," he said. "However, the oil prices stopped growing and so did the domestic market demand. As a consequence, production growth also ground to a standstill, and our economic model stopped working."
Kudrin said this type of economic growth fails to stimulate productivity and kills all incentives for introducing new technology and increasing product quality.
"You still manage to sell outdated products in terms of quality and technology, don't you? So, for a while, you have this illusion that everything is going fine. You do have an [annual economic] growth of 7 percent, what else do you need?" he said. "But then it dawns on you. This growth, which is based on an obsolete model, ends at some point, and it suddenly becomes clear that you are entering a more difficult economic period with outdated production technologies and underdeveloped market institutions."
Kudrin said that in Russia, this alarm sounded long ago. But with government advisors now recommending printing more money in order to achieve what used to be achieved at the expense of the growing oil price, the effect will be similar for a sometime.
"However, since there are no established market economy institutions in this country, one half of this bloated monetary base will immediately be spent on imported goods. Imports will get underrated; we will import instead of buying domestic products. One-fourth [of the newly printed money] will be eaten by inflation. Only 25 percent will actually be spent on boosting domestic production."
As a result, the overall effect will prove negative, Kudrin said.
Kudrin believes the incumbent government is not prepared for radical reforms, and has spent the past one and a half years "continually procrastinating critical decisions." He also accuses the President Vladimir Putin's cabinet of a lack of coordination, adding that they need to interact with other ministers and with the legislators.
"The only entity capable of ensuring such interaction would be an effective coordinating center, represented by the [prime minister]. There is unfortunately no such coordinating center in the incumbent government. As a result, each of the ministers is left alone with their host of problems. The government's efficiency can and should be higher than it is now," the former finance minister said.
Another problem is the sheer disparity between the cost of labor and its productivity. "For this country to become economically competitive, it must take efforts to bring the production costs down," Kudrin argued. "We are, however, doing exactly the opposite. Even in the past several months, the growth of wages in Russia has continued to outstrip productivity dramatically. The money we spend on wages has exceeded 50 pecent of the GDP over the past one and a half years!"
Kudrin said Russia urgently needs new technologies. He notes that 80 percent of the most required technological solutions are already out there; the remaining 20 percent are waiting to be created.
Taking down bureaucratic barriers is another urgent objective. "Our defense spending is really looming over all the other expenses," he sad. "Since the overall volume of [budget] resources is unlikely to grow any further, we need to make a choice [between spending heavily on defense or investing in other economic sectors]. In fact, this choice seems to have already been made. According to the three-year [budget] plan recently submitted by the government [to parliament], expenses on education, health care, and infrastructure (as calculated in percentage of the GDP) are set to shrink. They will grow in absolute figures, but the volume of [Russia's] economy is growing as well, and the tasks facing it are also becoming more sizeable. In effect, there will be less percentage of money allocated for tackling these tasks."
Kudrin said he is not planning to return to the government, adding that the reason why he left his post in the first place was his disagreement with the government's policy, which has not since altered. "I would only come back if the policy changed," he notes.
This is abridged version of the article first published in Russian inMoskovsky Komsomolets.
All rights reserved by Rossiyskaya Gazeta.