Moscow Region to get fourth airport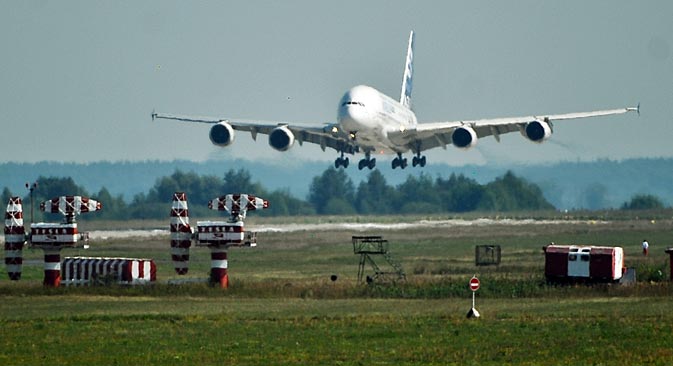 Potential investors should consider the future airport planners' goals, which are to have a "multi-functional center" with an international passenger terminal for "low cost" airfare companies at Ramenskoe by 2015. Source: ITAR-TASS
Russia announces a call for investors to develop the capital's fourth airport.
Moscow could soon have a fourth passenger airport if the city can find investors interested in putting up 7 billion rubles, or $214 million, to develop the Ramenskoe Test Airfield.
Ramenskoe is known for hosting the MAKS International Aviation and Space Show, but city authorities are planning for the airport will become a full-fledged passenger air hub, serving up to 10 million people annually end of 2019.
The competition was announced by Transport and Exhibition Complex Russia (TEC Russia is an "affiliate" of Rostekhnadzor), which owns the land around the airfield.
Ramenskoe is a test airfield, which has been operating since 1941. It is able to accept any type of aircraft, without any weight restrictions. The airfield is the longest in Europe, and its main runway is 5,402 meters (17,723 feet) long.
During the Second World War, long-range bomber and ground attack aircraft were based on the airfield. The majority of aircraft, produced in the USSR and in modern Russia, were tested here. The airport has a symbolic radio call sign – Gordiy (proud).
Today aircraft of the Russian Emergencies Ministry, various aircraft manufacturers, as well as aircraft of the Ministry of the Interior and Federal Security Service are located at Ramenskoe. In addition to testing new aircraft, this airfield is used by civil aviation as a cargo airport.
In the future, this air hub will be further developed as an airport for joint operations of experimental, civil and military aviation.
Potential investors should consider the future airport planners' goals, which are to have a "multi-functional center" with an international passenger terminal for "low cost" airfare companies at Ramenskoe by 2015. It will have the ability to offer its services to 400,000 people. Later, the capacity of the terminal will be brought up to 1.5 million people a year. By the second quarter of 2017, they are expecting to open a second passenger terminal and cargo terminal. By the end of 2019, the airport should be serving about 10 million passengers annually, and handling 25 million tons of cargo.
Some strict requirements are being presented to investors: at least 25 percent of the shares should be traded on the stock exchange, and the company should have previous experience in airport infrastructure construction. In addition, it should not be affiliated with "any airline operating regular passenger and cargo traffic, or aircraft manufacturer." On top of all that, the investor must have various international certifications, such as ground handling of passengers and maintenance of foreign aircraft.
The winning investor will create a joint venture with TEC Russia, with TEC owning at least 25 percent plus 1 share. Facilities and land where the airport sits will be transferred to the joint venture for a 49-year period.
The three largest Russian private airport holdings have already expressed interest in this project.
According to Andrey Kramarenko, an independent expert, the calculations made by TEC Russia regarding the ratio of passenger traffic and the number of runway operations will provide an opportunity for wide-body aircraft, carrying from 180 to 330 passengers, to use a Ramenskoe airport.
"It could turn out that the airport will be designed for charter flights, and not for low-budget carriers. Moreover, foreign airport operators can only meet these strict competition rules. However, it is another question, whether this project will be of interest to the major world players," he said.
This is abridged version of the article first publish in Russian in Kommersant.ru.
All rights reserved by Rossiyskaya Gazeta.