Yandex takes another shot at Google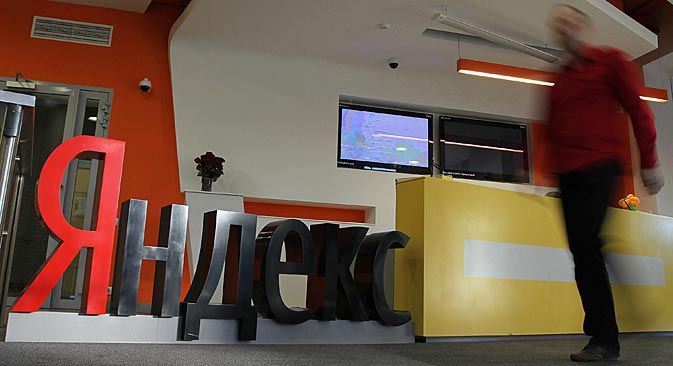 Yandex's corporate logo is well known to users of the Russian-language Internet. Source: Getty images/Fotobank
With the launch of an improved analysis tool and its own cloud system, Russia's leading search engine hopes to grow its market share at home and abroad.
Russian Internet giant Yandex is taking its competition with Google to the next level. At the end of October, Yandex launched two different services for mobile application developers: an analytics system for mobile applications and a cloud-based system for app developers the company has dubbed "Cocaine."
The analytics tool is actually an expansion of the Yandex.Metrica for Apps, which the company launched in 2009. The original Yandex.Metrica for Apps allowed website owners to analyze the behavior of users and the effectiveness of advertising campaigns.
Metrica for Apps, however, is designed to make it easier for developers to get feedback from users of their products on both Android platforms and Apple products. The service collects information on how apps are used and can sort the data with various filters including geo-location, application version, type and version of operating system, type of device (tablet or smartphone), model and the manufacturer, screen resolution, language, mobile provider, connection type, and the user's actions and session.
In addition, the tool can identify any drawbacks of running the application on mobile devices. For example, it can show how many glitches Russian users experience per week when running the application on a tablet. App developers can receive data from Yandex.Metrica in real time or over a long period.
What does "Yandex" mean?
The word "Yandex" was invented by the company's two principal founders, Ilya Segalovich and Arkady Volozh, 20 years ago.
At that time, Segalovich was experimenting with different derivatives of words that described the essence of the technology. As a result, the team came up with "yandex" — adding the Russian letter "Ya," which translates as "I," to index. The name originally stood for "yet another index."
Today, Yandex is synonymous with Internet search in Russia.
Unlike Google Analytics for mobile apps, Yandex.Metrica does not yet provide data on conversions (number of installations following a click on an ad) or performance (such as the number of users who make a purchase with an app). Yandex does plan to offer these features in the future.
"The next step in developing the service will be to offer marketing tools. With their help, developers will be able to see the traffic sources, funnels, conversions and much more," a representative of the company's press service said. Yandex.Metrika for applications is available for free to developers worldwide in English and Russian.
Cocaine, the name of Yandex's new cloud service, is an acronym for Configurable Omnipotent Custom Applications Integrated Network Engine, but also reflects company hopes that the service will become addictive. The service, which will be used to create individualized cloud hosting applications, is an open source platform (PaaS) similar to Google App Engine or Heroku.
Nicholas Turubar, an expert on mobile technology, considers the new Yandex products the company's attempt to increase its market position vis-à-vis Google. "By creating mobile metrics, Yandex seeks to consolidate its position on the international market of mobile applications and to support its own Yandex.Store," Turubar said. "However, no one can predict how Google will react. There is a risk that the company will attempt to prevent its competitor from developing its own app store."
Should this happen, Yandex will not be able to integrate with GooglePlay, the largest app store for devices with Android operating systems. Yandex.Store, launched in 2012, consists of two parts: one for developers and one for users. The store currently offers more than 85,000 applications, according to its official site.
There is a precedent for blocking Yandex applications. Facebook banned Yandex's Wonder mobile app from receiving information about Facebook users within hours of the app's launch.
At the beginning of this year, Yandex had 62 percent of the Internet search market in Russia, compared with 26 percent for Google. Yandex issued an I.P.O. on the Nasdaq exchange in 2011 and is currently valued at more than $11 billion.
All rights reserved by Rossiyskaya Gazeta.