Luring foreigners to Moscow's real estate developments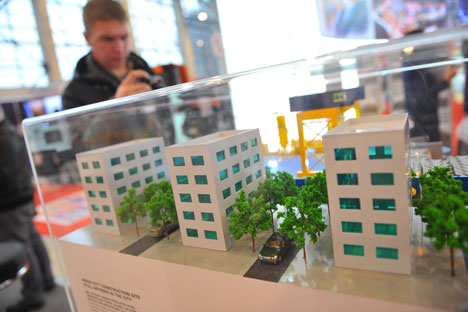 New Moscow territories must become the source of investments growth. Source: PhotoXpress
An expanding Moscow has extended its boundaries to the southwest, but it is still short of investments. The city needs to increase annual investments from $20 million to $50 billion.
Such an increase in real estate investments may be possible at the expense of overseas investors, who are keen on the Russian real estate market and possess ample funds, but have so far been very cautious.
Moscow is undoubtedly the most attractive region in Russia for real estate investments. The cap rates of quality facilities markedly exceed those of European markets. In Moscow cap rates range from 9 percent to 12 percent, depending on the property type, whereas in Europe 5 percent is already looked upon as the high rate of return. According to Credit Suisse, office buildings in central Zurich yield only 4 percent to 4.5 percent. As reported by Savills, office and retail properties return 4 percent to 5 percent each year in Germany's largest cities: Berlin, Munich, Frankfurt and Hamburg. Therefore the Moscow market's potential is obvious.
Meanwhile the interests of overseas investors are limited to a narrow pool of assets. In most cases they prefer to deal with the office and warehouse (industrial) real estate markets (excluding strategic players of the retail property market), since these are the most understandable segments in terms of yield and demand. Thus class A office centers within the Third Ring Road area of Moscow are fraught with the lowest level of risk for foreign investors. In addition, the occupancy of office centers in downtown Moscow is at least 95 percent, on average, whereas outside the Third Ring Road area the vacancy rate may reach 25 percent.
New Moscow territories must become the source of investments growth. Their key advantage is large development sites, which are very important given a limited supply of development spots inside the Garden Ring. Nevertheless three factors hamper the advent of investors to the new territories: obscure rules of the game caused by the lack of a clear development concept for New Moscow, the absence of developed infrastructure, and the complexity of hookup to utilities grids.
The main point of growth is the new territory, "12 centers of attraction," where builderes plan to create a comfortable environment for 1.5 million people with potential for 1 million new jobs.
Public-private partnership (PPP) could be a viable option in integrated development of the vast territories and a way of overcoming the current stalemate. There are two basic scenarios of interaction between business and government.
The first is providing ready for development sites to investors. The authorities prepare all essential initial and planning permits, lead all requisite engineering lines to a given plot of land, ensure good transport accessibility, and only then contract a developer.
The second scenario is dividing competencies between business and government. At the stage of design all project stakeholders – government, developers, grid companies, suppliers of public utility services – decide who does what and agree on the timeframes. The government controls the fulfillment by all stakeholders of their respective commitments. A greater part of negotiations is held prior to investor entering a project; under this arrangement the investor does not lose money and time on the site, when grid companies are not ready to connect utilities, or when the government cannot widen road junctions because it lacks the budgetary funds for this endeavor.
Integrated development benefits investor, government and citizens alike. If a developer is involved in the integrated development of territories within the PPP framework, the profit margin may rise 15 percent to 20 percent at least. A positive economic effect for the city is also assured: new territories take less time to develop; this means a boost for the construction industry and higher budget proceeds.
Swarcliffe community in Leeds, United Kingdom, exemplifies integrated development of an urban area under the PPP scheme. In 2005 the local administration faced a number of problems: low-quality housing, underdeveloped road and social infrastructure, and the lack of green areas and public spaces.
In 2007 the tender for integrated development of this urban area resulted in a contract signed by the Leeds city administration with Carillon PLC. Today 500 quality, low-rise houses are being raised as part of the urban regeneration project; major repair of 1,700 municipal facilities is being accomplished; green areas are laid out – parks and public gardens; retail and social infrastructure is being created; transport accessibility is improved. The level of investments in the project is £150 million, with expenditures divided between the British government and private investor on a fifty-fifty basis.
Integrated development on PPP terms may become a real mechanism of attracting foreign investments to Moscow's new territories. For such projects to materialize it is necessary to develop a Moscow program that would highlight the key characteristics of integrated development projects and designate the clear terms of their implementation. After the paper version of such program is adopted, it is important for the city authorities to think of some real implementation mechanisms, since this may trigger the growth of investments far exceeding the stated $20 billion.
Aleksandr Nikolaev is managing director for Russia and CIS by Valartis Group.
This is abridged version of the article first published in Russian in RBC Daily.
All rights reserved by Rossiyskaya Gazeta.