Sturgeon disappearance sparks demand for caviar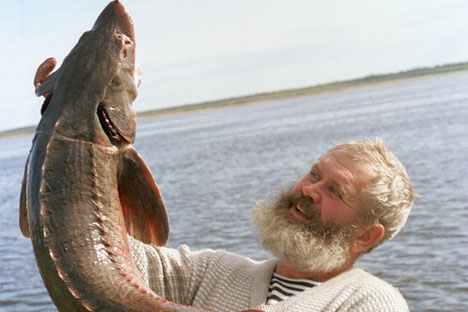 Decline in sturgeon numbers sparks global demand for black caviar.
Salmon catches increased in the Kamchatka Peninsula in the Russian Far East and in the Sakhalin region. Source: ITAR-TASS
Black caviar has long been a symbol of Russian affluence, and today is seems true more than ever.
The aristocrat's hors d'oeuvre is the salted roe derived from the sturgeon, one of the most threatened groups of animals on the planet. Black caviar is worth more than gold and prized by gourmets around the world.
But the decline in sturgeon numbers means the genuine tiny, shiny black eggs becoming a rarity in stores.
Instead, counterfeit caviar is filling the shelves. Pike caviar looks similar in every way, but is no way comparable to sturgeon eggs when it comes to taste. However, aficionados are increasingly turning to the lower-priced red caviar, produced by salmon, to satisfy their roe desires.
Even red caviar prices are expected to sky-rocket ahead of the New Year, a holiday most Russians associate with a sandwich topped with butter and the red beads.
Last summer, the cost of salmon caviar rose by 70 percent, largely because of a bad start to the salmon season in eastern Russia. Later, normal market prices returned – about $50 a kilo – thanks to large imports of frozen red caviar from Alaska.
Between 40 and 60 percent of the red caviar in Russia comes from fisheries in the far eastern part of the country. Annual production of salmon caviar in Russia is estimated between 11,000 tons and 13,000 tons. About 1,500 tons of frozen red caviar had been imported to Russia as of August, worth more than $13 million, the Federal Customs Service reported.
Almost 90 percent of the imported caviar was declared at $7 to $9 per kilo, several times lower than the average price of Russian caviar.
Russian caviar market experts say salmon-roe shortages and price fluctuations are largely a result of conflicts between caviar processors on the eastern coast and those near the Caspian Sea.
As salmon catches increased in the Kamchatka Peninsula in the Russian Far East and in the Sakhalin region, more processors were established on the east coast – leaving processors near the Caspian Sea with no place to obtain fresh salmon roe. According to recent data, about 4,000 tons of raw caviar were harvested in the Caspian Sea from 2010 to 2011, while last year that number dropped to 1,500 tons.
One can hardly find legal Russian caviar in Asian stores, except in Japan, which imports salmon roe from its western neighbor for its sushi bars. European gourmands with deep pockets rejoiced two years ago, when Russia lifted a 9-year ban on the export of sturgeon caviar to Europe, which limited harvested from farmed sturgeon to 150 kilograms a year.
Russian wild caviar, the beloved snack of Russian tsars and those who aspired to be princely, is now no more. Rampant fishing after the fall of the Soviet Union led to stocks falling so low that Russia, 11 years ago, introduced a moratorium on commercial fishing of sturgeon in the Caspian Sea, the historical center of caviar production.
Other countries bordering the Caspian Sea, the source of 90 percent of the world's wild caviar – Iran, Kazakhstan, Turkmenistan and Azerbaijan – also agreed to respect the moratorium.
In 2006, the Convention on International Trade in Endangered Species, or CITES, the United Nations organization that controls trade in endangered species, banned international trade in caviar and other wild-sturgeon products.
Twenty-seven species of sturgeon are now on the International Union for Conservation of Nature's Red List of Threatened Species and, of these, 63 percent are listed as critically endangered.
Caviar's high prices have encouraged massive overfishing of the sturgeon, and smuggling. Traditionally, caviar was obtained from wild species caught mainly in the Caspian Sea.
All rights reserved by Rossiyskaya Gazeta.