Russia may trade overflight fees for more access to Europe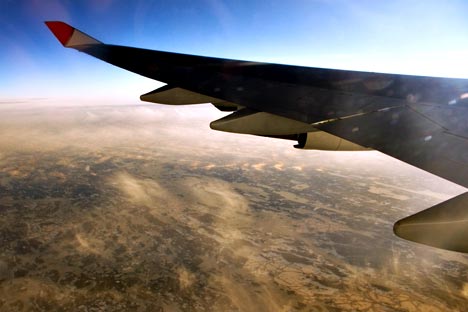 Russian aviation plans to gain access to the internal European market. Source: Alamy / Legion Media
As part of its drive to gain access to the internal European airports, Russian federal air transportation agency Rosaviatsia is negotiating with Czech aviation authorities about dropping Siberian overflight fees.
At the end of October, Russian and Czech aviation authorities held talks about the possibility of eliminating the fee Czech companies pay for flying over Siberia. This tax has been paid by all Western carriers since 1970 as a way to offset the profits lost by Aeroflot.
According to various estimates, the fees range from $200,000-$500,000 annually. In exchange for canceling the overflight fees, Russia has asked European negotiators to allow Russian airlines to operate flights from one European airport to another.
This will allow Russian airlines to fly a fairly large number of heavily traveled routes without leaving the European Union or the Schengen Zone.
Ksenia Arutyunova, a transportation expert with Rye, Man & Gor Securities, thinks that Russian carriers will profit more from any such deal than Europeans.
"Benefits for Russian airlines are much higher than from the fees. The short European routes are more cost-effective and profitable than routes across Russia," Arutyunova said.
But the deal is not universally positive for Russia – the shortfall in annual fees could be damaging to national carrier Aeroflot. "Eliminating the fees could cause Aeroflot shares to drop in one day by 7-9 percent because it is the main beneficiary of the trans-Siberian fee," said Arutyunova.
However, Arutyunova argues that long-term the deal will be beneficial for Aeroflot. "The faster Aeroflot weans itself off of the fees and proves that it can compensate for trans-Siberian fees with actual cash flow generated from the air service, the better for the company," said Arutyunova.
Should the deal be finalized, Russia would also be forced to seek new sources for investment in Russian civil aviation since as part of an agreement with Russia's federal air transportation agency Rosaviatsia, Aeroflot had been diverting a portion of the overflight fees for upgrading the infrastructure for civil aviation in Russia.
According to Andrew Schenk, a transportation analyst at Investcafe, Russia is aware of these challenges, but is ready to move forward.
"In my opinion, Russia is willing to abolish fees for two reasons. First, this is what their European counterparts have been demanding ever since they joined the WTO, and secondly, sooner or later they would have had to find other ways of financing infrastructure on the trans-Siberian route."
The European Union also stands to gain from the agreement. Europeans know that eliminating the fees would potentially give them not only an economic, but also a competitive advantage.
"Russia will satisfy Europe, which is demanding the fees be eliminated, but it is possible that it will still require payments from airlines of other countries, such as those in Asia. And in this case, European companies will be in an advantageous position. They will be able to compete due to lower prices for trans-Siberian flights," said Schenck.
All rights reserved by Rossiyskaya Gazeta.