How to increase awareness of Russian markets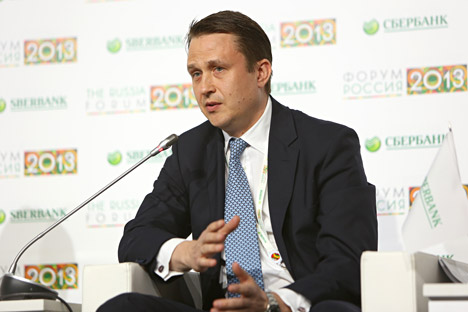 Albert Ganyushin: "Investors often think investing in Russia carries a high political risk, however we heard from speakers that it is quite the opposite". Source: Press Photo
The Head of Listings at NYSE Euronext tells RBTH that while investors often think investing in Russia carries a high political risk, it is often quite the opposite.
Russia Beyond the Headlines: What key sectors are you, as the head of international listings at NYSE Euronext, looking at outside of oil and gas? What kind of Russian companies do you hope will list in the future?
Albert Ganyushin: Beyond oil and gas, we are looking at companies in technology, Internet, media, telecoms, retail, financial institutions and transport. Companies from these high growth sectors are likely to be coming to list and IPO on the NYSE in the near future.
Another category of companies that we expect to welcome in the future are larger, established Russian companies that are looking to improve their access to US-based investors and drive valuation and liquidity of their stock.
RBTH: What type of Russian companies are listed now?
A.G.: The NYSE has two companies listed from Russia - Mobile TeleSystems OJSC (NYSE: MBT) and Mechel OAO (NYSE: MTL). A third company, Luxoft has a significant footprint in Russia and is headquartered in Switzerland. We are delighted that since its IPO in June this year, Luxoft's share price nearly doubled making it one of the best performing companies this year.
RBTH: How has NYSE Euronext been an advocate for the development of Russia's capital markets?
A.G.: We were invited to participate in the Moscow International Financial Centre (MIFC) International Advisory Board when the initiative launched a few years ago. The MIFC project indicated the start of the long-overdue reform of the Russian financial markets and we view this as a very positive development.
The NYSE Russia Day is one of the ways we contribute to this initiative. For the past three years, we have brought together government officials, CEOs, investors and asset allocators for a very direct and open dialogue aimed at increasing awareness of the changes in the Russian markets.
Our advocacy also extends to senior executives regularly attending investment conferences in Russia and the St. Petersburg Economic Forum (SPIEF), to add our voice and experience to the discussions on reform.
For example, this June at SPIEF, together with the Russian regulator, government officials and senior corporate executives, I participated in the discussion on ways to improve corporate governance in Russia. As part of this debate, I argued for specific reforms to further improve Russian financial markets including the introduction of mandatory IFRS, affiliated parties regulation and listing reform.
RBTH: What do you think were the most salient new ideas or concerns that came out of the NYSE Russia Day 2013?
A.G.: Investors often think investing in Russia carries a high political risk, however we heard from speakers that it is quite the opposite. The government is focused on a number of key initiatives to drive economic growth including lowering state participation in the economy, fostering competition, stimulating SME growth and improving the investment climate.
This said, there remain concerns among entrepreneurs and investors about protecting and enforcing property rights due to cases of corruption. The government seems to understand the need to continue addressing this issue.
It was also good to hear that, while not without challenges, investors and foreign businesses in Russia are able to use the legal system effectively to defend property rights.
RBTH: Some investors say Sergei Belyakov, Russia's deputy minister for economic development, represents a "new generation" in the Russian government. What do you think this means?
A.G.: I think it means there are a number of people in senior roles in the Russian government, including in the economic and financial block, that have open and modern views on policy and are working hard to bring about changes that can realize the country's economic potential.
RBTH: How do you see Russia's economic outlook and investment opportunities for 2014? What is the importance of the St. Petersburg Economic Forum for investors?
A.G.: Slowing economic growth and investment levels will continue to be a challenge. Investment in consumer-related companies from technology to retail to financials will continue to be attractive. An even bigger upside can perhaps be found in the more traditional sectors in selected companies that are making themselves more efficient, competitive and transparent.
All rights reserved by Rossiyskaya Gazeta.