Potash game to be continued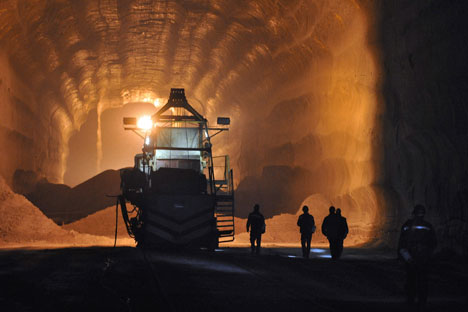 Russia and Belarus are two of the world's largest potash producers and each country has one major potash company. Source: Denis Vyshinsky / Kommersant
Vladislav Baumgertner may be back in Russia, but the future of the potash market is still in play.
The first round of the conflict between Russia and Belarus over potash assets is over. On Nov. 22, the General Prosecutor's Office of Belarus extradited Vladislav Baumgertner, C.E.O. of Russian potash major Uralkali, to Russia. Baumgertner had been detained in Belarus since Aug. 26.
Russia and Belarus are two of the world's largest potash producers and each country has one major potash company. In Russia, this is Uralkali, which is majority-owned by billionaire Suleimon Karimov; in Belarus, it is Belaruskali, owned by the Belarusian government.
In 2005, they jointly established the Belarusian Potash Company (BPC) to market and sell their potash abroad and compete effectively with Canadian potash manufacturer Canpotex. As part of the deal establishing BPC, Uralkali C.E.O. Baumgertner was made general chairman of BPC.
The organization operated effectively for several years, until in 2011, Uralkali, represented by Kerimov, tried to buy a controlling stake in Belaruskali. However, no deal was reached on the price.
At the end of 2012, Belarusian President Alexander Lukashenko signed a degree cancellng the exclusive rights of BPC to export Belarusian potash and Belaruskali began exporting potash on its own.
In response, Uralkali also stopped exporting through BPC.
The dispute caused the price of potash to fall dramatically. The price of Baltic Standard potash fell from $400 in July to $305-310 in November.
In August, Baumgertner went to Minsk for talks in an attempt to resolve the dispute and help the price recover. As he prepared to leave after the talks, he was arrested on charges of abuse of power in his role as general chairman of BPC.
In the months that followed, Russia and Belarus sparred over Baumgertner, with Belarus demanding new ownership for Uralkali. Several potential buyers emerged and eventually a deal was reached.
As part of the deal to release Baumgertner to Moscow, Russian investment firm ONEXIM, which is controlled by oligarch and politician Mikhail Prokhorov, bought Suleimon Kerimov's 21.75 percent stake in the company.
According to Oleg Dushin, an analyst with IC Zurich Capital Management, the return of Baumgertner effectively closes the case.
However, Konstantin Simonov, head of the National Energy Security Fund, said that until the future of Belaruskali is determined, the market will continue to be in turmoil. Lukashenko is supposed to be looking for international investors for the company, but it is unlikely that he will find one who can outspend the Russians and in this respect, Prokhorov is likely to be a much more problematic shareholder for Lukashenko.
Kerimov would have had to borrow money to engineer a purchase of Belaruskali, but Prokhorov has cash to spare. "He will continue to pursue the price dumping policy and to twist Lukashenko's hands, urging him to sell the asset," Simonov said.
As for Baumgertner, who now faces criminal charges in Moscow, Simonov believes that his ongoing detention is just part of the game.
"Baumgertner was taken as a hostage in Minsk, and Lukashenko's requirements were met – the shareholder in Uralkali was changed. Baumgertner is likely to be held in a pretrial detention facility for form's sake, and then he will be released. However, the story itself is just beginning," Simonov said.
All rights reserved by Rossiyskaya Gazeta.