Businesswoman shares the secrets of her success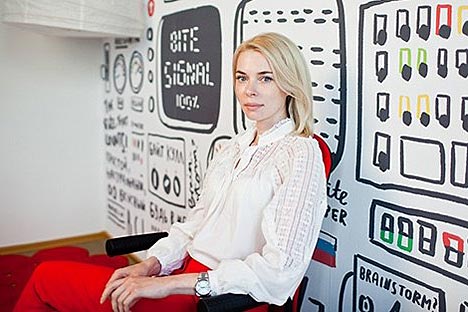 Elena Shifrina: You can find security in your own financial independence. Source: Press Photo
The creator of a company that produces wholesome Bite bars shares her practical guide to building a successful business for women from.
I am going to tell you about how to get money in your hands. I run my business using my own funds, which I had been saving for many years until I set up my own company. I have always been economical. I knew that I would at some point find a great use for the money I had saved.
Many people wonder what I know about finance, how to plan and allocate your budget in order not to spend what you earn on adventurous shopping trips or for buying all kinds of petty stuff. I'll tell you what I know.
What is money for you? For me it is freedom and the opportunity to sleep soundly at night, and the ability to maintain a normal standard of living. I do not need money to fly on a private jet, buy houses or decorations.
I want to make the most of my expenses into a kind of investment. It seems to me that many women are looking for security in the wrong places. You can find it next to a man, but there are other options. For example, your own financial independence.
I developed an interest for saving money at an age of six. My family was quite wealthy, but my grandmother, the chief accountant in a Soviet manufacturing plant, tried to teach me to save and make money grow. On sunny days, she even turned off the light in the bathroom. "Money likes to be counted and controlled" were her favorite words.
It is not how much you earn that is important, but how you spend your money. If you do not have control over your finances, you can never know what to expect in the future and what you can really afford. Each expense should be an investment.
At one point, I caught myself thinking that I spend most of my life at work, so all the food at home soon becomes expired. I started buying less.
We are not millionaires, but we still allow ourselves to consume in unreasonable amounts. Set yourself a goal and try to understand what you can do without. Allow yourself one purchase per month just to be in a good mood, and put all the others under control.
Recently I heard a phrase that I really liked: "we are given taste in order to disguise our lack of money." Recently I have not spent any money on clothes, I have been wearing what I bought before.
Set yourself a goal for the year, or, better, for next five years. How do you see yourself and what do you want to spend your money on in five years? On a good education or on an apartment? Start saving for it now. Most likely, you already have the necessary resource, you just use it irrationally.
Divide your income into three components: expenses, income and savings – and find a balance among them. Analyze your two-week report, set priorities and draw conclusions. Everyone thinks that they do not earn enough to make savings.
This is not true: anyone can save money. Even a student, who lives on a student allowance, manages to buy a bunch of flowers for his girlfriend once a month. You can always find money for really important things.
You can save 20 percent, and it would be even better if you saved 30 percent of your income every month. Look at the ratings of banks, for example, on the website Banki.ru. Find out which bank offers the best rates for term deposits, and open an account there.
No matter how much you would like to, do not spend that amount. You will need this money for something big in the future, even if you still do not know what it might be.
The problem in our society reflects the problem of the state as a whole: we earn money, but we still have not mastered the long-term planning. Nobody teaches us this; we do not know how to manage our money.
Everyone wants to become rich in an instant, but it does not happen that way. If you want to build something, you need to gain experience, make mistakes, but they should be made provided you have an airbag.
Elena Schifrina, CEO and founder of BioFoodLab.
All rights reserved by Rossiyskaya Gazeta.