The Northern Fairy Tale is run by Alexander Bondarchuk, a former submariner, and his wife Svetlana Goryacheva. The kids that come here on guided tours are always delighted to see the animals that pull Santa's own sleigh. Meanwhile, the farmer and his wife are trying to make their first profit.
It all started a decade ago. The family has invested some 12 million rubles ($364,000) in the venture over the years.
The idea originates from Bondarchuk time working as a trucker, when one of his frequent destinations was the Kola Peninsula. During one of these trips in 2003, he saw a herd of reindeer being led along the road to an abattoir for slaughter. He took pity on the animals, and brought a pair to live in the back yard of a home in the Moscow region.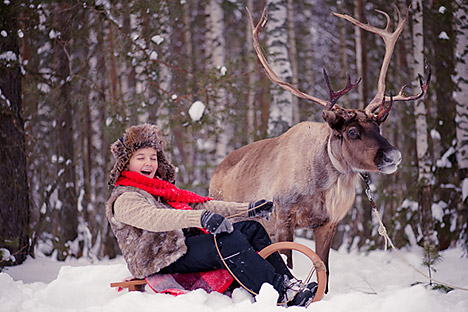 The kids that come here are always delighted to see the animals that pull Santa's own sleigh. Source: Sevolen.ru
He knew nothing about reindeer at the time, so he spent a week in the northern Murmansk region learning tricks of the trade from an old reindeer herder. That is where he learned how to handle a reindeer team.
In 2005 he brought another pair of animals from the tundra. There are now 13 reindeer on the farm, which entertains three of four groups of visitors every day, with 26 or 42 people in each group.
Dressed in a national costume, the tour guide takes visitors to an enclosure with five reindeer and tells them about the animals' life, favorite food, preferred environment, and habits.
The guests are then allowed to feed the animals from the palm of their hand, and taught how to put a reindeer team to a sleigh.
Those visitors who merely wish to see the animals are welcome all year round. But to take a ride on a sleigh pulled by a team of reindeer, one must come when there is snow on the ground.
Goryacheva said the number of visitors peak on New Year's Eve; there are much fewer people coming in summer.
From March to November the farm has only 10 to 15 visitors on weekends. During the low season, the couple let their hired tour guides go and handle the visitors themselves. The price of admission to the farm without a guided tour is 100 rubles ($3).
Every two years Bondarchuk and his wife buy another two or three reindeer for their farm. Out in the tundra, they pay 30,000 rubles ($919) and upwards for each animal; their transportation to the Moscow region costs almost three times as much.
Every time Bondarchuk buys an animal he needs to take out a special permit from Rosselkhoznadzor, the government agency in charge of agriculture.
The head of the agency's press service, Aleksey Alekseenko, told RBTH that there must be a set of documents for each animal confirming that it is not infected with any dangerous diseases.
Each reindeer must also have a veterinary certificate stating its gender, age, breed, distinguishing marks, past illnesses, and vaccination history. Finally, the animals must be submitted for a veterinary check-up every year.
Since 2005 the farm's owners have signed deals with several tour operators. Demand for trips to the reindeer farm is very strong. Vladimir Lutov, head of the Travel Shop agency, said that 1,000 to 1,500 people sign up for such trips with his company every winter.
Tour operators start to make bookings in summer. Those who want to visit the reindeer farm around Christmas time must book their trip in September at the latest.
Apart from the guided tours, the farm also makes money by offering reindeer teams for hire. Every winter animals from the Northern Fairy Tale are hired for five or six events to bring Santa to the party in style.
The couple said, however, that they are much happier making money on guided tours of the farm; the reindeer don't like the trip to Moscow, and fines had to be paid to customers on several occasions because the animals got stuck in the notorious Moscow traffic.
Bondarchuk's reindeer have also been hired by camera crews for advertising videos and films; there have already been more than five such orders in total.
Another small source of revenue is the farm's gift shop. Souvenirs cost from 50 rubles ($1.5) to 400 rubles ($12.3); they are made at the farm itself from deer horn, wood or deer hide, or bought from the indigenous people of the Kola Peninsula during the infrequent trips to buy more animals for the farm.
Keeping reindeer is quite expensive. Fodder – including oats, vegetables, and hay – costs at least 50,000 rubles ($1,500) a month; another 20,000 ($613) to 30,000 rubles ($919) is spent on utility bills, and 100,000 rubles on the farm payroll.
The farm owners said they are now planning to stock the pond at the farm with fish in order to attract fishermen. Next spring they also want to build a shooting range, where visitors will be able to try their skills with a bow or a crossbow.
Plans for 2016 include opening a museum of the history of northern people.
The two reindeer farmers hope that these new attractions will help them to increase the number of visitors to eight groups every day. But to bring all their plans to fruition, they will need to invest 3 million ($91,900) to 5 million rubles ($153,000).
"We borrowed the money to build and equip the farm from our friends, who were kind enough to give us interest-free loans," Goryacheva said.
"So far, we have only paid the cost of the land plot, so we have to economize. But we realize that we need more attractions for visitors here at the farm. There must be more for them to see here than just the reindeer."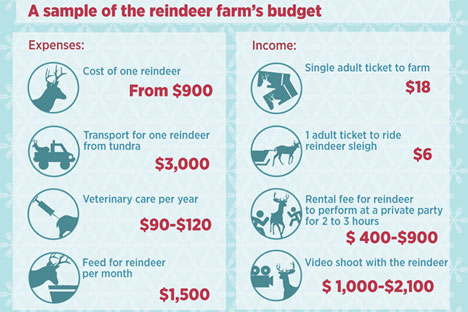 Click to enlarge the infographics
First published in Russian in RBC Daily.
All rights reserved by Rossiyskaya Gazeta.