New challenges for Russia's economy in 2014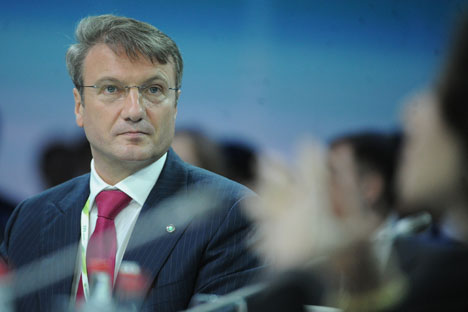 Sberbank head German Gref: "I can see no sources of finance for increasing wages or adjusting social sector salaries to inflation." Source: ITAR-TASS
Next year may prove quite challenging for the Russian economy, as the negative trends carry over from 2013.
Experts warn that the economic forecast offered by Russia's Ministry of Economic Development may be too optimistic.
The government needs to be prepared for decisive action in order to improve the situation, as the key negative trends which slowed Russia's economic growth in 2013 are expected to carry over into 2014.
Stagnating on the brink of recession
"The current negative growth of consumer demand will continue," said Alexey Balayev with the Economic Expert Group. Sberbank head German Gref agreed, saying "I can see no sources of finance for increasing wages or adjusting social sector salaries to inflation. Consumer lending will likely continue to decline gradually. Everything is becoming more difficult, so the situation with growth drivers is quite complicated."
Not all is well with capital investment, either.
"We must remember that natural monopolies will have their rates frozen from 2014 on, and this will affect their investment programs," said Igor Nikolayev, director of FBK Institute of Strategic Analysis. "In addition, the consolidated returns of Russian businesses have shrunk."
Most experts agree that gross domestic product (GDP) will grow at a modest 1 percent to 2 percent in 2014, or below the forecast of the Ministry of Economic Development.
"No fast economic growth is to be expected in 2014," said Maxim Petronevich, the chief expert at Gazprombank's Center for Economic Forecasting. "It could prove to be as slow as 1 percent to 1.5 percent, even despite the positive effect of the Sochi Olympics. However, this should not be perceived as a negative trend. Slow growth is a natural phenomenon and a normal phase of any economic cycle anywhere in the world."
Seeking new growth areas
Petronevich believes there will be an active revision of economic growth drivers in 2014. The private sector, supported by private initiative, is a promising big segment with minimum government intervention.
"The sector is benefiting from a powerful flow of investment at 15 percent per year," Petronevich said. "This boom partially offsets the decline in investment in the basic materials sector. If the trend continues, then the expected low economic growth will signify structural economic changes rather than an overall recession."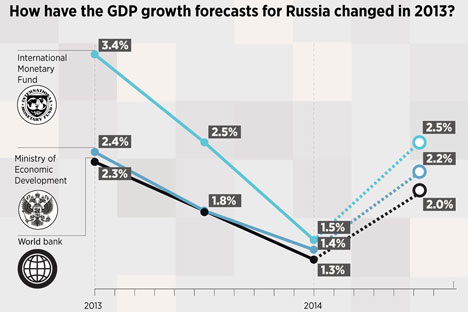 Click to enlarge the infographics
Another opinion has it that the defense industry may become a new growth area. "New production enterprises and new jobs may get created in this sector, and this will have a multiplier effect," said Vladimir Klimanov with the Russian Academy of the National Economy of the Russian Government (RANEPA).
"Entire chains of related production facilities may be set up, supporting the development of individual regions."
World Bank chief economist Sergey Ulatov said an increase in workforce productivity may serve as another growth factor.
However, systemic reforms are needed for the new growth drivers to start working, he added.
FBK analysts are of the same opinion, saying that Russia's weakened economy will face global challenges in 2014. These challenges will include the changing world energy market, exacerbated by the shale gas revolution, as well as the overall transformation and halted revival of the modern economic model. In light of these events, FBK analysts said, Russia needs to reinvent its own economic model.
"Now is the ideal time for launching a number of very important reforms," Sberbank's Gref said. He notes, however, that the system of administration must be reformed first.
All rights reserved by Rossiyskaya Gazeta.