The specifics of Russian private banking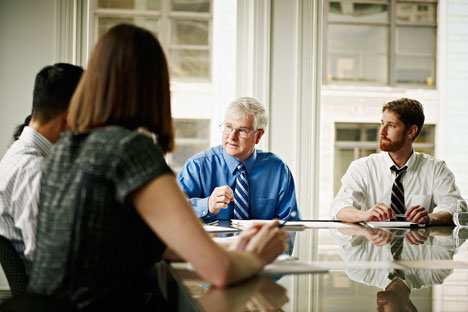 Private banking services in Russia mainly come as bonuses for senior managers of major corporate clients. Source: Getty Images / Fotobank
Although the private banking market is relatively young in Russia, local banks are now capable of competing with their Western colleagues in terms of complex and exotic investment vehicles
The Russian private banking market first emerged in the mid-1990s, simultaneously with the first private businesses. At the time, very few banks would foray into the segment because the country's banking sector was still in its early days.
But that situation has since changed, and now almost all the major Russian retail banks run private banking operations. The segment is notoriously tight-lipped, making it difficult to appraise its size.
Different estimates put the private banking market's current value at $20 million to $25 billion, noting that the figure grows by some 25 percent every year. To qualify for private banking services in Russia, a client must own between $45,000 and $900,000.
There are anywhere between 75,000 and 180,000 dollar millionaires in Russia, whose combined assets could reach as high as $350 billion.
Banks operating in the Russian private banking segment:
- state-operated banks with dedicated private banking operations (including Sberbank and VTB 24);
- major private banks (including Alfa-Bank, Promsvyazbank, IFC Bank, Otkritie Bank, and KIT Finance Investment Bank);
- banks specializing in wealth management – M2M Private Bank;
- Russian representative offices of foreign banks: Deutsche Bank, Raiffeisenbank, Citibank.
Russian private banking is based on the classic Swiss model, but it also has its regional specifics. Alexey Gusev, an expert with the Institute for Financial Planning, said private banking services in Russia mainly come as bonuses for senior managers of major corporate clients. Elsewhere in the world, banks mostly work with those private clients who run their own business.
The average Russian VIP client is aged between 55 and 60, and is a top manager at or the owner of a business set up in the 1990s. Gusev says this category of clients will grow particularly interested in inheritance issues in five years, including how to sell or restructure their business and how to recall their offshore assets.
The list of Russian VIP private banking clients has recently been growing actively at the expense of showbiz celebs, media personalities, prominent athletes, and their families. These newcomers are particularly interested in bespoke lifestyle management services such as selecting unusual gifts, starting wine collections, renting and buying property, yachts and airplanes, hiring household staff, and recreation planning.
"We work with a number of leading galleries which offer works by renowned Russian artists for sale. The bank itself may choose an interesting project, assess the risks involved, and offer its clients to co-invest," said Tatyana Ivanova, the director of the qualified investor department at International Financial Club.
Deposits have become a very popular type of investment with VIP clients since the 2008 financial crisis, which discouraged well-to-do Russians from investing in the once super-profitable stock market. VIP deposits currently account for 30 percent to 60 percent of all liabilities in banks, which offer private banking services.
The Russian private banking sector has something to offer to sophisticated clients, too: portfolio consultancy services. "What such an investment portfolio will include depends on the client's preferences and investing experience," said Mikhail Gromov, the head of the private capital management department at Citi. "As a rule, this service is chosen by qualified investors who choose to work with sophisticated financial products."
One significant trend of 2014, experts predict, may see major clients starting to leave for large state-run banks following the revocation of several private banks' licenses last year.
All rights reserved by Rossiyskaya Gazeta.