Russia may become world's leader in shale oil production – BP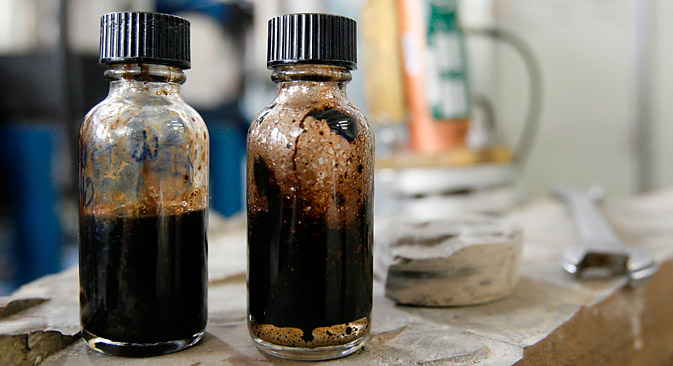 Russia's oil majors confirm BP forecast. Source: AP
According to BP analysts, Russia may become one of the world's chief countries in shale oil production. Tax incentives are already in place, the only stumbling block is the technology.
According to a BP forecast, in 20 years' time, Russia will become the world's second largest tight oil producer. The company's experts estimate that by 2035 it will be producing 800,000 barrels of shale oil a day.
When it comes to shale oil, there is a confusion in terms between Russia and the United States. What is known in the U.S. as shale oil, meaning that it is produced from oil shale, has been since Soviet times known in Russia as tight or unconventional oil.
Russia's oil majors confirm BP experts' predictions by declaring that they view unconventional oil production as a priority. A source at Rosneft said that the company's estimated reserves of shale oil stood at about 1.4 billion tons.
In the near future Rosneft expects to increase its unconventional oil production and, through the use of new technologies, arrive at an annual production of 10 million to 15 million tons.
Lukoil is continuing with its tests at Bazhenov formation deposits in the Khanty-Mansi Autonomous Area and expects to identify the necessary technologies and move on to commercial production, the company's representative said. Gazprom Neft was unavailable for comment.
Russia has begun to reform is tax system in order to create favorable conditions for applying technologies that are required for unconventional oil production. As a result, the country could be looking at becoming a world leader in shale oil production.
As of late last year and extending for a period of 10 years to 15 years, a zero-rate mineral extraction tax will apply to four tight oil deposits: Bazhenov, Abalak, Khadum, and Domanik.
The Russian Energy Ministry estimates that by 2032 the proposed incentives may result in additional oil production of some 326 million tons, generating an additional $66 billion (some 2,000 billion rubles) in taxes, Minister Alexander Novak said in an interview with РБК daily at the end of last year.
As one oil company employee pointed out, shale oil production is a necessity that the whole industry is facing. As traditional oil reserves are depleting, oil companies have to search for new sources of hydrocarbon resources.
For the state companies that have access to Russia's continental shelf, a long-term way out may be offshore oil production in the Arctic, but that will take many decades. For the medium-term, the only thing that could bolster falling production is the development of unconventional reserves, the paper's source concluded.
In Russia the term tight oil is a broader term that covers oil produced not only from oil shale but also from other petroleum-bearing formations of law permeability. It includes, for instance, oil produced from clay rock or oil produced from deposits in the Bazhenov formation. The technology used to produce shale or any other type of tight, unconventional, oil is practically the same.
First published in Russian in RBCdaily
All rights reserved by Rossiyskaya Gazeta.