Is Russia's new luxury car tax necessary?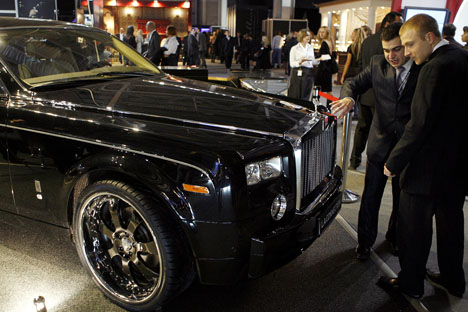 In Russia, approximately 1,000 luxury vehicles sold every year. Source: Getty Images / Fotobank
Russia has adopted a new tax on luxury cars, the first tax on the country's wealthy class. Many question why Russia needs such measures.
Russians with cars worth more than $90,000 will now have to pay as much as $4,000 a year in taxes on the vehicles, thanks to a new luxury car tax that comes into force this year.
While many see the tax as the first in a series of taxes aimed at Russia's wealthy class, some experts said the tax will only effect a handful of tax payers at this point. Sergey Udalov, the executive director at the Avtostat analytical agency, estimated that there are only about 1,000 such vehicles sold in Russia every year.
Still, for the Russian government, it could at up to an additional $120 million in extra budget revenues, but no more, said Alexander Galushko, the president of the Business Russia public organization. In France, a similar luxury car tax annually adds more than $2.5 billion to the national budget, he said.
Russian state officials agree the luxury tax will not yield as much money as similar Western taxes do, but argue that this is not its intended purpose. Deputy Finance Minister Sergey Shatalov says it is more of a measure to re-establish social justice.
Fight on high earners
President Vladimir Putin said in 2013 that the gulf between the poor and the rich remained an extremely painful problem for the country. He instructed the government to propose a set of bills that would establish so-called luxury taxes.
According to Credit Suisse, Russia's 110 billionaires together control 35 percent of the country's resources. Worldwide that figure stands at 1 percent to 2 percent.
However, the luxury tax idea first emerged much earlier than that. In 2007, the A Just Russia party proposed counting as luxury all vehicles, airplanes, helicopters, yachts, and boats worth more than $60,000; jewelry and art objects worth more than $9,000; and apartments, country houses, and land plots worth and $450,000.
Most Russians supported the idea at the time. According to a VTsIOM survey of 2012, 70 percent of those polled were in favor. Interestingly, only around 50 percent of those who described themselves as being wealthy approved of the initiative.
Next in line after the luxury car tax is a tax on property, which was drafted by the Finance Ministry in 2013. This one will be introduced gradually, over a span of several years. The size of the tax will depend on the cadastral value of the property. The owners of apartments and houses valued at $9 million and higher will have to pay the most.
Some experts believe the $9 million threshold is too high. They point out that only around several hundred such properties can be found in Russia.
"The main problem with introducing a cadastral luxury housing tax is that far from all the Russian regions have current cadastral registries," said Anton Sonichev with the law firm Nalogovik. "If there is no cadastral data on all properties, then some of them will slip between the cracks."
Western experience
Special taxes for the wealthy are old news in the West. Sometimes even taxpayers themselves offer to be taxed more. Several years ago, amid the European financial crisis, some 50 millionaires in Germany proposed a 5 percent surcharge on those whose savings and assets exceeded 500,000 euros. The idea was proposed by Dieter Lehmkuhl, the founder of the Wealthy for a Capital Levy movement.
"In times of financial crises, taxes must be raised wherever they can, meaning the wealthy have to pay more," Lehmkuhl explained. "A property tax is in the interests of the millionaires themselves, because it benefits the country and society; it [improves] the health care, education and justice systems, ultimately resulting in greater social stability."
All rights reserved by Rossiyskaya Gazeta.